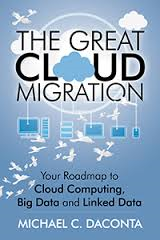 The book's "Triple-A" Strategy: Assessment, Architecture and Action makes it a must read for both IT managers and project leads.
Manassas, Virginia (PRWEB) November 18, 2013
The Great Cloud Migration: Your Roadmap to Cloud Computing, Big Data and Linked Data explains in detail all the options, tradeoffs, challenges and obstacles to migration, covering the difference between application migration and data migration to the cloud and walking readers through how to do both effectively. It also includes twenty migration scenarios covering migration to all the major cloud providers, including Amazon Web Services (AWS), Google AppEngine, Microsoft Azure and more.
"This book leverages key takeaways from our time spent developing the Axon Cloud Broker for our Army customer. Cloud brokers enable customers to ease application migration and reduce their risk in moving solutions to the Cloud," says author and InCadence VP of Advanced Technology Michael Daconta.
"InCadence Strategic Solutions stands ready to assist customers in migrating their applications to the cloud and implementing big data solutions. Mr. Daconta's book demonstrates the high-level of expertise InCadence customers have come to rely on," says InCadence President Anthony Iasso.
The Great Cloud Migration: Your Roadmap to Cloud Computing, Big Data and Linked Data can be purchased online via Amazon.com or BarnesandNoble.com.
Book Release Event & Demonstration:
InCadence will host a book release event for InCadence Vice President of Advanced Technology, Michael Daconta's twelfth book entitled, "The Great Cloud Migration: Your Roadmap to Cloud Computing, Big Data and Linked Data." The book release event will be held on Wednesday, November 20th at 5:30 PM at Maggiano's Little Italy in Tysons Corner, VA. During the book launch, InCadence Strategic Solutions President Anthony Iasso will provide demonstrations of InCadence's new Axon™ CloudChannel™ technology.
For more information about "The Great Cloud Migration: Your Roadmap to Cloud Computing, Big Data and Linked Data" or to attend the book release event, please contact Ericka Shirley at InCadence: 703-552-2810 or eshirley(at)incadencecorp(dot)com.
About the author:
Michael Daconta is the Vice Present of Advanced Technology for InCadence Strategic Solutions, Inc. He is also an author, lecturer and columnist, having authored and co-authored 11 other technical books, numerous magazine articles, and online columns. He's also the former Metadata Program Manager for the Department of Homeland Security. Mr. Daconta has more than 25 years of development experience and has developed large-scale IT systems for an array of industries. He invented two patented technologies and is currently developing the Axon Cloud Channel, Technical Cloud Broker with a team of developers at InCadence Strategic Solutions. He holds a master's degree in Computer Science from Nova Southeastern University and a bachelor's degree in Computer Science from New York University. Mr. Daconta is also the author of Information as Product: How to Deliver the Right Information, To the Right Person, At the Right Time.
About InCadence Strategic Solutions:
InCadence Strategic Solutions, founded in 2009, is a Women-Owned Small Business (WOSB) headquartered in Manassas, VA. Incadence specializes in providing expertise and technical solutions in the areas of Biometric & Identity Management, Information Management, Tactical Communications and Intelligence Support deep. InCadance is committed to contributing to national security and the worldwide Intelligence Community (IC) while providing customers and partners with strong, sound technical solutions, fresh ideas, exceptional personnel and experienced program management.