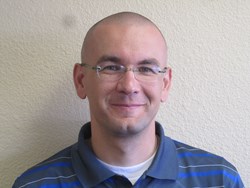 "My hope is to be a positive influence in people's lives when they are coming in for treatment."
Phoenix, Arizona (PRWEB) November 19, 2013
In mid-December, Ideal Physical Therapy will open their newest clinic in the Phoenix-Moon Valley area at 7th Street and Bell Road.
The clinic is now scheduling new patients for treatment and will be managed by Partner Physical Therapist Patrick Lally. Patrick has been a Physical Therapist for seven years and an Athletic Trainer for ten years. Working with the Pittsburgh Ballet, Pittsburgh Steelers, Pirates and University of Pittsburgh teams, Patrick's experience is quite, well, ideal!
Patrick is excited to offer Phoenix residents a convenient location and begin treating patients in this area of town saying, "My hope is to be a positive influence in people's lives when they are coming in for treatment."
A few of the clinic's specialties include Manual Therapy, Physical Therapy, Sports Therapy, Spine Manual Therapy, General Orthopedics, Vestibular/Balance Rehabilitation, Post-Operative Rehabilitation, HVLAT Manipulations and Mechanical Traction/Spinal Decompression.
To learn more information about the Phoenix/Moon Valley Clinic or to schedule a new appointment, please call 602.795.8441 or visit http://www.idealphysicaltherapy.com, 706 E. Bell Rd, Suite 121, Phoenix, AZ 85022.
About Ideal Physical Therapy
Ideal Physical Therapy is a group of private practice outpatient physical therapy clinics specializing in physical therapy and hand therapy. Since 2005, they have grown to 19 locations throughout the metro Phoenix and Tucson areas. Each clinic is comprised of professional physical therapists and dedicated staff working towards Ideal's common goal of improving patients' quality of life. Ideal takes pride in their ability to spend more quality time with patients by utilizing the latest paperless technologies to make processes easier for patients and physicians. For more information about Ideal Physical Therapy, or to schedule an appointment, visit their website at http://www.idealphysicaltherapy.com.