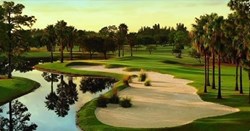 Palm Beach Gardens is a city in high demand, which many are looking to call home.
Palm Beach Gardens, FL (PRWEB) November 14, 2013
The Fazio Course of the beautiful PGA National Resort & Spa will host the first annual "Beatriz Recari and Friends Alliance Golf Classic." The event will take place on Thursday, December 12, 2013 beginning at 7:00 a.m.
LPGA Tour player star Beatriz Recari will be the official ambassador for The Alliance for Eating Disorders Awareness, a non-profit organization committed to helping those who suffer from eating disorders by encouraging a healthy lifestyle, positive body image, and boosting self-esteem. Recari aims to support the goals of the non-profit by sharing her personal struggles with an eating disorder, as well as her triumphs over the disease. Recari found her way back to a healthy and sustainable routine and hopes to inspire others to do the same.
PGA National Resort & Spa, located at 400 Avenue of the Champions, in Palm Beach Gardens, sponsors a number of events throughout the year, including The Honda Classic each spring. PGA National also offers a Golf Academy and membership to PGA National is by invitation only. The grounds feature 5 of Florida's top golf courses. In fact, PGA National's Champion Course has been ranked the toughest in Florida and number 11 worldwide.
Palm Beach Gardens is a jewel of the Sunshine State, a hotspot for golfers as well as many other sporting enthusiasts, including swimmers and tennis players. Anyone who lives in Palm Beach Gardens or any of the surrounding areas, or has visited, can easily understand what the attraction is to the area.
Palm Beach Gardens' residential options serve as another reminder as to why the city is in such high demand. From uber-luxurious condo living with the amenities of a 5-star resort, including concierge and spa services, to expansive mansions surrounded by breath-taking grounds, close to everything your heart may desire. From shopping and dining options to warm, pristine beaches, to black tie galas and a multitude of outdoor and indoor cultural events year-round, Palm Beach Gardens is a city in high demand, which many are looking to call home.
Apart from the resort area, PGA National also boasts a variety of residential living options, including town-homes, condos and homes. Homes currently listed for sale range anywhere from 502 square feet to over 6,000 square feet, offering something for every budget, need and want.
Distinct Estates sells Palm Beach Gardens homes as well as other highly-desirable areas all over sunny Florida, such as Jupiter, Palm Beach, and Manalapan. Distinct Estates represents both buyers and sellers who are in search of their Florida dream home. The reputable Florida real estate agency is composed of highly experienced realtors who have received many accolades for their level of professionalism and results.