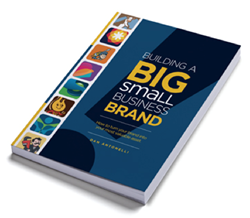 Washington, NJ (PRWEB) November 26, 2013
Heating, Cooling, and Air Conditioning contractors looking for the competitive edge now have a new tool at their disposal. "Building a Big Small Business Brand" by Dan Antonelli, president & creative director of Graphic D-Signs, Inc, is finally available online.
His third book, Dan Antonelli and "Building a Big Small Business Brand" detail the thoughts, design, strategy, and implementation of how small businesses can build and leverage a great brand. The book helps those new to building a brand better understand how to navigate the design process, how to choose a designer, and how to recognize the effect a brand can have on customer perception.
The iconic logos, ads, and fleet branding of a brand are known to have a substantial impact on how consumers perceive the value of their products and services. In his new book, Antonelli demonstrates how small businesses can best utilize this to manage their own company's public perception.
With expertise behind creating over 1000 unique small business brands, Antonelli takes the reader through the intricacies of a brand's creation, strategy, and application across the media mix. A number of examples from his agency—Graphic D-Signs, Inc.—are used to illustrate key points such as a noticeable logo design and a well-crafted vehicle wrap. A frequent contributor to HVACR magazine, Antonelli and his firm have had a number of their HVAC client designs featured, taking top honors in the "Tops in Trucks" design contest for the last three years.
Graphic D-Signs, Inc., The Small Business Advertising Agency®, is an award-winning NJ advertising agency that focuses on logo and web design, advertising, marketing strategy, social media management, and branding for small businesses throughout the nation.