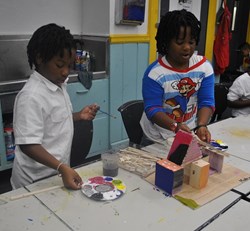 Despite the overwhelming evidence that arts education is extraordinarily beneficial for kids, many schools have been forced to cut their art programming. For some boys, the Boys' Club is the only place they have to explore art.
New York, NY (PRWEB) November 19, 2013
The Boys' Club of New York (BCNY) is excited to announce their Winter Art Show, featuring art created and performed by members of all three Boys' Club Clubhouses. The Art Show will be held at Harriman Clubhouse (287 E 10th Street) on Wednesday, December 11, from 5 – 7pm.
Exhibits will include black and white photographs developed in BCNY's dark rooms, as well as media art, a popular course taught at all three Clubhouses. Drawing, paintings, and sculptures will also be displayed, many of which represent collaborative art projects made by groups of three or more boys.
Several animated short films created by the members will be projected during the Art Fair; additionally, several BCNY musicians will be performing solo and small group works and there will be three original dance performances. Boys can also enter their work into an organization-wide competition, to be judged by several BCNY Women's Board members who will be attending the event.
Hors d'oeuvres will be prepared and served by BCNY members participating in Teen Battle Chef, a culinary competition program. The Boys' Club hopes to be able to entice all five senses by featuring inspiring visual art, rousing music, surprising textures, and delicious smells and flavors.
This event is free and open to the public. For more information on BCNY's art programs, please visit BCNY.org.
About The Boys' Club of New York
The Boys' Club of New York is committed to nurturing, mentoring and guiding boys and young men to prepare them to reach their fullest potential. Throughout its 137-year history of youth development, The Boys' Club of New York has combined a single-minded focus on boys and young men with a unique, multi-disciplinary approach that prepares them for a fulfilling and meaningful adulthood. The Boys' Club of New York accomplishes this through an approach that includes music and arts programs, social and recreational activities, academic support, and athletics.
By introducing boys to new ideas, expanding their interests, developing their real-world skills, providing a safe and nurturing environment, and offering ongoing counseling and mentorship, the Boys' Club of New York helps shape boys and young men into the best men they can be.
# # #
If you'd like more information about this topic, or to schedule an interview with BCNY, please call Helen Frank at 347.505.5416 or e-mail Helen at Helen.Frank(at)bcny(dot)org.