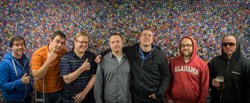 Also, moustaches! Am I right?
Buffalo, NY (PRWEB) November 14, 2013
KegWorks, the noted retailer of Tools For Drinking, has announced the formation of a Movember team at their office headquarters just outside of Buffalo, NY. The company hopes to become an annual participant in Movember, the global charity that asks men to grow moustaches to help raise funds funds for and awareness of men's health and the importance of preventive medicine.
The KegWorks Movember team is comprised of representatives from several departments at the company, all of whom have grown moustaches exclusively for the sake of Movember. Brad McRae, a member of the KegWorks' Shipping/Receiving crew and the founder and spiritual leader of their Movember team, says, "Movember is great. It's for a good cause and it's fun. What's not to like? Also, moustaches! Am I right?"
Movember was started in Australia in 2003 and has grown into a worldwide phenomenon that annually raises impressive sums for men's health initiatives. In 2012 alone, the US version of Movember raised over $21 million, and globally that number expands to roughly $147 million. This money is used to help fund programs that aim to bolster clinical results and treatment for prostate and testicular cancer, as well as improving overall mental and physical health for men.
Although KegWorks doesn't have a set fundraising goal, their hope is to raise as much money as possible. Their Movember page can be found at http://moteam.co/kegworks.
About KegWorks:
KegWorks is a leading multi-channel merchant of home and professional draft beer equipment, bartending tools, premium cocktail ingredients and the world's best selection of novelty drink accessories. Launched in 1998, KegWorks is privately owned and continues to be recognized as one of the fastest growing companies in Western New York.