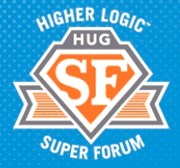 With over 15 hours of education and training, the 2013 HUG Super Forum program will include 21 sessions, more than 25 thought leaders, two general sessions and one crowd-sourced session called "45 Tips in 45 Minutes."
Washington, DC (PRWEB) November 19, 2013
Higher Logic, the leading provider of private social networking software for member-based organizations, is proud to announce the fourth annual Higher Logic User Group Conference. The 2013 HUG Super Forum will host over 350 clients, partners and team members on December 2-3 at the Walter E. Washington Convention Center in Washington, DC.
"Hosting the 2013 HUG Super Forum is the most important event we organize all year!" said Rob Wenger, Chief Executive Officer at Higher Logic. "Attendees can expect to see collaboration at its best. We're excited to host this annual training event where our clients and partners can come together to enrich the Connected Community user group and learn best practices."
This year, Marcus Sheridan will deliver the Monday keynote address. Sheridan, an expert in inbound and content marketing, will present: Unleash the Power of Content in Your Community. During his presentation, Sheridan will help attendees understand what content marketing is and why it is a critical component of individual and organizational success going forward in the digital age.
With over 15 hours of education and training, the 2013 HUG Super Forum program will include 21 sessions, more than 25 thought leaders, two general sessions and one crowd-sourced session called "45 Tips in 45 Minutes." Attendees will learn more about engagement, content marketing, mobile and emerging technologies. The presentations and training sessions are facilitated by Higher Logic team members, industry experts and industry colleagues. As an educational program related to the Certified Association Executive (CAE) examination content outline, full participation in the 2013 HUG Super Forum is eligible for 9 CAE credits. Higher Logic is an approved CAE provider.
For more information about Higher Logic's 2013 HUG Super Forum or to register, visit the conference site. After registering, attendees can download the 2013 HUG Super Forum Eventsential app to plan their days and get up-to-the-minute information on their iPhone, iPad and Android devices.
ABOUT HIGHER LOGIC
Higher Logic provides innovative professional social media and mobile applications for organizations worldwide that are seeking to create conversation, share knowledge and build community. Our premier offering, Connected Community, which is currently used by more than 100,000 online communities with over 17 million engaged users, empowers organizations to share best practices and collaborate—anytime, anywhere.