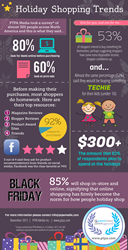 ..when taking Black Friday into account, planned online shopping soars from 2% to 49%.
Toronto, Ontario (PRWEB) November 19, 2013
The Holiday Season is just around the corner and all across North America; retailers are preparing enticing deals, elaborate window displays and alluring websites in hopes of encouraging shoppers to spend a little more. What will be driving consumers this shopping season? With all the anticipation in the air a survey was conducted by PTPA Media Inc. PTPA helps companies grow their brand to moms]. to forecast the shopping habits of both Canadian and American consumers this Holiday Season.
Shopping is Starting Early
According to the survey of 283 people across North America, consumers are showing eagerness to begin shopping right away. With 78% of respondents saying they plan to start shopping before mid-November, retailers can expect fewer last-minute shoppers and an early jump in sales numbers.
Price Comparison is the Trendy Tool
It's the season for the savvy shopper to flex their comparison shopping muscles and retailers are not only aware of this trend, they're responding to it with promises of price matching, easily visible online pricing and in-store flyer incentives. With comparison shopping information readily available to consumers, it came as no surprise that over 80% of shoppers admit to looking for deals online while 60% of respondents also checked printed flyers for pricing before buying. Flyers are not a thing of the past, despite the convenience that the online world brings.
Peer Recommendations Takes the Lead
As most savvy shoppers know, having a trusted resource for product reviews and recommendations are vital for choosing the right gifts. When asked where shoppers turn to and whom they trust most, 59% of respondents said friends and family are their first trusted and reliable choice, followed by product award sites, then blogger reviews and finally magazine reviews.
Online Shopping is the Ultimate Convenience
Once those shoppers are ready to make their purchases, PTPA Media asked consumers where these purchases would be taking place: online or in-store or a combination of the two. Results showed that the bulk of shopping for 85% of consumers polled would be a blend of online and in-store. This seems to signify that shopping for gifts online is now easily the norm, especially since results also showed that 13% of consumers would purchase in-store only and 2% are shopping online solely.
Black Friday Makes Its Mark
The shopping habits of consumers change direction when taking Black Friday into account. Planned online shopping soars from 2% to 49% of purchases and only 37% of those polled plan to do a combination of online and in-store shopping. Undoubtedly, Black Friday purchases seem to be driven by price and now that retailers understand that consumers are not fans of long lines, crowded stores and difficult parking lots, they've taken their sales online resulting in a shift in consumer habits.
Finally, the PTPA poll revealed that 53% of shoppers intend to buy a little something for themselves this year. Whether this means shoppers have a little extra disposable income or that consumer confidence is rising, it is music to many retailers' ears. Of those surveyed, 52% of respondents said they would be purchasing a tech related gift for their kids which tended to eat up a large portion of their Holiday spending budget.
The survey was conducted by PTPA Media between November 1st and November 7th and it was designed and formulated by PTPA Media Inc., North America's leading parenting community. Please cite any information references to PTPA Media Inc.
About PTPA Media Inc.
PTPA Media provides an objective framework for appraising new products designed to enrich family living. The company's mission is to provide families with a credible source of objective feedback for consideration when making their purchasing decisions for their families. PTPA is recognized by the media across North America as a leader in the family awards industry and their community of parent testers exceeds 60,000 families. The PTPA Seal of Approval is a recognized objective certification that is used by thousands of products and can be seen on product packaging, television commercials and online and printed flyers.