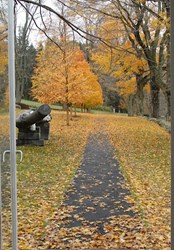 Ticks remain active as long as the temperatures are above freezing
Stamford, CT (PRWEB) November 14, 2013
In autumn the sun slants lower, the days shorten, and we turn our ears to the sounds of the season: migrating birds, perhaps, or just the rustle of fallen leaves. Unfortunately, though, fall also brings unwelcome visitors: adult stage ticks that can transmit Lyme disease or one of its many co-infections.
"Ticks remain active as long as the temperatures are above freezing and the ground is not frozen or covered by snow," says Lyme Research Alliance Co-President Debbie Siciliano. "We urge everyone who spends time enjoying the great outdoors—whether hiking, raking, or simply taking the dog out for a nice, long walk—to take steps to protect themselves from ticks."
According to the Centers for Disease Control and Prevention, some 300,000 Americans are diagnosed with Lyme disease each year, making the illness a tremendous public health problem. A bite from a tick that transmits Lyme (called Ixodes scapularis, also known as black-legged or deer ticks) can leave you with a mix of symptoms that range from fatigue and flu-like aches and pains to serious and long-term complications that affect the brain, joints, heart and muscles—all possible indications of Lyme disease.
Adult stage deer ticks are active in the fall and, unlike mosquitos, are not killed by freezing temperatures. They are often found near roadside edges with stone walls and grasses around them, unmanicured hedges, and brushy areas, says Kirby Stafford III, Ph.D., vice director/chief scientist of the Connecticut Agricultural Experiment Station.
To reduce the chance of being bitten by a tick, LRA recommends that you:
1.Wear light-colored clothing, including a long-sleeved shirt tucked into pants and long-legged pants tucked into socks. This will enable you to spot ticks on your clothing and prevent them from reaching your body.
2. Purchase tick-repellent clothing treated with permethrin, an insecticide that repels and kills ticks. You can also spray your own clothes with permethrin, but make sure you carefully follow directions and precautions. Permethrin products should never be used on the skin.
3. Apply EPA-approved repellents that contain DEET to exposed skin. If you prefer to use organics, rose geranium or eucalyptus oils are frequently cited for use as tick repellents. Use repellents cautiously on small children, avoiding the eyes, nose and mouth.
4. After spending time outdoors, toss your clothes in a dryer. Usually 15 minutes in a clothes dryer will kill any ticks that have attached to your clothing.
5. Do a full-body tick check when you and family members return indoors. Make sure you check under armpits, back of knees, the groin, around waistbands, and your scalp.
If you find a tick on your body, it's important to remove it safely. According to a survey released in June by the National Pest Management Association, more than 60 percent of Americans used improper methods to remove a tick from themselves, their family members, or their pets. Twenty-nine percent of those surveyed used heat from a recently extinguished match, 28 percent used their fingers, while 17 percent used oil, petroleum jelly, gasoline and 15 percent said they used something else. These methods almost never work and can increase your risk of infection.
If you find a tick, use a fine-tipped tweezer to grab the tick "head" as close to the skin as possible and pull it out like a splinter. Don't twist or jerk the tick because this can cause the tick's mouth-parts to break off and remain in the skin. "Adult ticks have longer mouth-parts," said Dr. Stafford. "So it can be a little harder to remove them. Don't yank, just pull gently and firmly."
To better educate the public about Lyme disease, LRA now offers a "Lunch 'N Learn" presentation session to employees of New York and Connecticut corporations, non-profit groups, and other organizations. The free 50-minute seminar, scheduled during the lunch hour, focuses on Lyme risks, prevention, tick removal and prevention tips. If you are interested in learning more about the LRA program, please contact Peter Wild, LRA's executive director, 203-969-1333.
______________________________________________________________________________
Lyme Research Alliance, formerly Time for Lyme, is a Connecticut-based, national non-profit that funds cutting-edge research into Lyme and other tick-borne diseases. For more information go to http://www.LymeResearchAlliance.org.