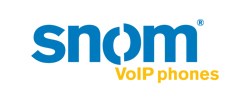 snom has established a strong foothold in this highly competitive market and is well positioned to take advantage of these growing opportunities.
Berlin, Germany (PRWEB) November 14, 2013
snom, a leading developer of IP desktop business phones, today announced that its Supervisory Board has appointed Brian J. Kelley as chief executive officer (CEO). Kelley had previously been managing snom's business in the Americas.
As CEO, Kelley will be responsible for expanding snom's market presence and leading its growth in all its core markets along with Michael Knieling, COO and Usman Tahir, CTO, in Europe, the Americas and Asia Pacific. He will build on snom's strong foundation as a leading developer of standards-based IP phones and communications devices for the business market. Today snom has a comprehensive lineup of SIP-based business phones and Microsoft Lync Qualified phones, among other products.
Kelley has more than thirty years of executive management experience with an established track record of value creation at both public and private companies. He has expertise managing growth and building customer focused, innovation driven organizations that successfully scale to deliver profitable products to the enterprise and service provider markets.
"The worldwide VoIP and Unified Communications markets are growing by double digits as businesses seek to reduce telecom costs and leverage the productivity enhancing features of these voice-driven IP communications services," said Kelley. "snom has established a strong foothold in this highly competitive market and is well positioned to take advantage of these growing opportunities."
Kelley joined snom in 2012 after a career spent in senior management at leading communications technology companies. Previous to snom, he was the chairman, CEO and president of Tii Network Technologies, and president and CEO of Cognitronics Corp.
He has also held senior management positions with TIE Communications, an early leading provider of enterprise telephony products. He served on the Board of Directors of all three companies.
He is also a member of the board of directors of Alteva Inc., a provider of hosted Unified Communications services.
"snom is committed to being at the forefront of IP-based voice communications and I look forward to growing our international presence and delivering a new generation of innovative business communications products," continued Kelley. "This starts with a relentless focus on the customer and working with our technology and channel partners to introduce collaborative-based products and services that deliver a high degree of value to our business customers."
As chief executive officer of snom, Kelley will join the snom Vorstand, the company's Managing Board, and will report to the company's Supervisory Board.
About snom
Founded in 1996, snom develops and manufactures VoIP telephones and related equipment based on the IETF open standard, SIP (Session Initiation Protocol). Recognized for its high-quality, customizable and cost-effective business phones, snom is also differentiated by the company's history in the VoIP industry and its dedication to high security standards. All of snom's products are designed to be fully interoperable with leading communications equipment vendors. snom customers and partners benefit from the interoperability and flexibility that snom telephones offer, including plug-and-play integration and universal compatibility with standards-based SIP VoIP platforms, applications or services. In September 2011, the snom 300 and snom 821 became the first and only SIP phones to achieve "Qualified for Microsoft Lync" status – Microsoft's top distinction for fully tested interoperability and compatibility with Microsoft Lync. snom's leadership continues today, based on its six-phone UC edition portfolio – the industry's largest and most extensive family of standards-based business phones qualified for Microsoft Lync enterprise environments.
snom is headquartered in Berlin, Germany, with offices in Italy, France, the United Kingdom, Taiwan and the U.S. that support a global network of channel partners in Europe, the Americas and Asia Pacific. For more information, visit http://www.snom.com.