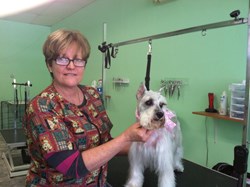 I have a warm heart for cold noses.
White Plains, NY (PRWEB) November 15, 2013
Rogeria decided to turn her lifelong love of animals into a thriving career. She recently opened her own grooming shop called Loving and Care Pet Boutique and Spa and loved what she did. However, the business side of grooming was not what she was looking for. She simply wanted to spend time grooming and caring for the pets she so dearly loves. So after a brief but successful time running her own pet grooming shop, she made another life changing decision. She started to actively look for a new home in the field she loved, without the added responsibilities of owning the business. She found that at NY Breeder. Not only is Rogeria now able to focus on the pets, but she is also excited to be working in such modern and clean facilities. She wanted to get back to her roots and simply focus on her passion. Her idea of a great day is washing, drying, combing, trimming and massaging a pet. Rogeria's motto is "I have a warm heart for a cold nose."
Pet owners love their animals and want the very best for them. There is a rapport that pet owners strive to reach with their vets and their groomers. They want to know that their pet is in excellent hands when their 'baby' is dropped off for even a couple of hours. Rogeria instills that sense of trust in her customers. NY Breeder is so excited to have Rogeria on board that they are offering $15.00 off to any new customers who come in for their first grooming. This allows pet owners to take advantage of her 10 years of experience with a nice discount. NY Breeder hopes that this discount will give you the opportunity to introduce yourself, and your pet, to her. You'll experience firsthand the love she has for each and every pet and for the skills she has acquired to be the best at what she does.
It is rare to find someone who is truly dedicated to her lifelong passion and seizes upon those opportunities. Fortunately, Rogeria has done just that. She explored her passion and took steps to ensure that she could be the best groomer and pet masseuse possible. Customers can have faith in her abilities as Rogeria is certified by reputable establishments including the American Academy of Pet Grooming and Intergroom. She left behind the entrepreneurial world to focus on her true calling: pampering pets.
NY Breeder considers having Rogeria Viana as a member of the pet grooming staff, a major triumph. They know that her experience and drive are going to please the customers and give them a sense of peace when their pets are lovingly groomed. She welcomes her former customers and new clients alike to leave their pets in her capable hands. She ensures that they will come out smelling clean and being happy. Her love for animals and skillful application makes her the most qualified groomer in the Westchester County area. Take advantage of the $15 off incentive for new customers and visit NY Breeder and Rogeria Viana today.
NY Breeder is a full-service pet store with designer, purebred and teacup puppies for sale in Westchester, New York. We also believe that we now have one of the best pet grooming facilities in Westchester NY.
For additional information, please visit http://www.nybreeder.com.
Contact:
45 Tarrytown Rd.
White Plains, NY 10607
Phone: 914-949-7877