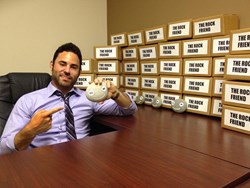 In an isolated age of social media, cellphones and selfishness a rock friend is the perfect friend that will always listen, understand and be there for you and even give you non-judgemental feedback. Truly the best friend one could ever have
San Diego, CA (PRWEB) November 19, 2013
Need a special friend for the holidays? Or maybe just a white-hot Christmas gift? Consider a rock friend.
A man is selling rocks on a web page that have been specifically selected for their friendly attributes and rigorously trained to be one's best friend and companion.
Steve Kadlec, 30, says people can cure their loneliness woes in an isolated age of social media, cellphones and selfishness by having a rock friend, a special friend made from a rock that will always listen, understand, and be there for you and even give you non-judgemental feedback and advice. "Each rock friend has been specifically selected from thousands of other rocks for it's friendliness and disposition. Rock friends are the perfect best friend you always wanted but didn't know how to have or keep."
Taken from The Rock Friend Website where they are currently being sold, here's why Kadlec says Rock Friends are the perfect friend:

"Your Rock Friend listens attentively to all your problems and understands and never judges- no matter how much you dominate the one-sided conversation.
You can ask your Rock Friend anything- just simply give your Rock Friend a little fun spin and you'll get a Yes or No answer every time to your question asked.
Your Rock Friend never bothers you like other stupid friends when you don't want to be bothered or are busy.
Your Rock Friend will never be needy or place a burden on you- your Rock Friend will never ask you to help move to a new place.
Your Rock Friend is telepathic and will hold a conversation with you in your mind if you just allow it.
Your Rock Friend can be hugged and kissed if you desire a close friendship.
You can bathe or swim with your Rock Friend (Rock Friend LOVES baths)
Your Rock Friend likes to always be with you and spend time with you, but only on your terms. Your Rock Friend fits snug into your Pocket and only comes out when you want.
Your Rock Friend is cheaper than any other friend. $8 for a lifetime of friendship. Think about it. You probably wasted $8 on beer last night."
Kadlec says the Rock Friends are specifically selected rocks for their tremendous energy and ooze friendliness. Each rock comes packaged happily smiling and with a Yes or No option so whoever has one can interact and have fun with their new best friend. All anyone has to do is ask their rock friend a question and give him a spin. Whichever option (Yes or No) is closest to the person after the spin is the rock friend's answer. Also included in the packaging is a 32 page friendship manual that shows how to develop a friendship for a lifetime and also Rock Friend's preferences, likes and dislikes. Each rock friend comes packaged in a discreet box because the rocks prefer to stay humble and no rock friend is the same.
Kadlec says that The Rock Friends are for real and he is selling tons of them as gifts. "I think this mostly appeals to people as great novelty/gag christmas gifts but perhaps people will see the true value of a friend and larger retailers will start carrying these year round," he said.
Kadlec said he came up with the idea when he was talking with a co-worker about why there has been such a disconnect in friendship in our current times. "People are very focused on themselves and their goals and traditional friendship seems to place a tremendous burden on this", says Kadlec. We agreed that rocks make the perfect friend because they would be there when we wanted and would place no other demands or pressure. A rock could be a true friend on our terms. However certain rocks look and feel better than others so we knew it would have to be a very special rock so I set out to find the perfect rocks- it couldn't be just any rock. People loved the idea and loved spinning the rocks and interacting with them and said they wanted them from me as quickly as I could make them so I started making them after work and then set up a website. As word spread orders flooded in."
Although started as a fun joke, to date Kadlec says he has sold hundreds of rocks directly through his website and has even started to send direct mail which should results in thousands or even tens of thousands more being sold.
"The demand for these has been crazy to keep up with and the more attention it gets, the more people buy them. I have no idea how far this will go but I'm having a lot of fun and so is everyone who is getting one."
People can buy The Rock Friend for $8.95 on his The Rock Friend website. It's amazing what people will do for true friendship these days.