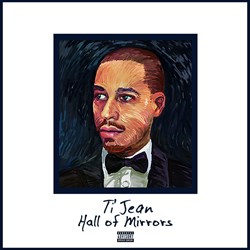 Washington, DC (PRWEB) November 14, 2013
Coast 2 Coast Mixtapes announces the release of the "Hall of Mirrors" Mixtape by Ti'Jean. The 16-track project is currently available for download. The mixtape features appearances from Fred Locks, Mr. Moringa, Pusha T, Cola G, Bumpy Johnson, and Scarface.
Ti'Jean is a rapper from P.G. County, MD. Born in Brooklyn to Jamaican parents but raised in Washington DC, Ti'Jean was exposed to distinct musical traditions from a variety of cultures which carved his own love for a music style based on fusing diverse influences, Hip Hop. Ti'Jean's name also carries strong significance as his parents chose it based on the name's inspiration derived form two distinctly different cultures, the Beat Generation and Haitian folklore. His parents took the name from Beatnik author Jack Kerouac whose family affectionately nicknamed him "Ti Jean". Ti'Jean is also the main character of a Haitian tale where Ti'Jean and his brothers trick the Devil to ultimately defeat him at his own game. Now Ti'Jean, the rapper, uses creativity and music to release his own demons.
Ti'Jean's latest release "Hall of Mirrors" is the direct result of the many ups and downs he has gone through over the past year which he describes as "the best and worst year of his life." "Hall of Mirrors" provides the perfect balance of infectious fresh beats and aggressive truth filled wordplay. Ti'Jean's clever flows seamlessly carry you through a barrage of trials and tribulations as Ti'Jean leaves no subject off the table including sex, his deepest dreams, personal demons, and love. This "man in the mirror" approach to the project screams authenticity and fearlessness, viciously unafraid to be transparent. Ti'Jean is a talented individual who can find success in any industry but his passion for music is apparent as he chooses to share his gift with the world. Find more information on Ti'Jean on his official website.
About Coast 2 Coast Mixtapes:
Coast 2 Coast Mixtapes are the most widely distributed mixtapes in the world, with over 100 million downloads/plays generated by over 200 volumes officially hosted by major artists. Coast 2 Coast has a solid reach in the new music industry with a digital magazine, DJ coalition, industry tips blog, yearly convention, and more. Coast 2 Coast Mixtapes represents a unique opportunity for artists of all urban genres, from major to indie. For more information, visit http://www.coast2coastmixtapes.com.