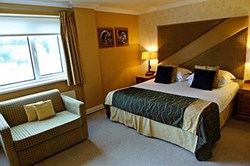 London, United Kingdom (PRWEB UK) 15 November 2013
The Barton Grange Hotel will now be represented on the GDS under the HotelREZ chain code, HO chain code.
Eloic Montagnier, General Manager of Barton Grange Hotel commented:
"HotelREZ is a recognized leading supplier of marketing and distribution services for independent hotels worldwide, so we are very much looking forward to working with them. The switching over to HotelREZ from our old supplier has been an extremely smooth and hassle-free process, and the HotelREZ team have been tremendously helpful and attentive throughout. We are excited to venture into this new partnership, and hope it will be a longstanding and fruitful one, as we feel we have now an opportunity to tap into new profitable markets."
Barton Grange is a Lancashire hotel set in an elegant old manor house, which has been extended and refurbished to offer its guests with a stylish and contemporary setting, while retaining the charm and character of its origins. Guests can enjoy the relaxed atmosphere and facilities of the hotel, including an exclusive indoor pool, sauna and gym or tuck away into a delicious meal in their award winning Walled Garden Bistro and Wine Bar.
Barton Grange Hotel is now bookable on the GDS under the following codes:
Amadeus: HO MANBGC
Galileo/Apollo: HO 77109
Sabre: HO 11488
Worldspan: HO 43879
Over the past two months, HotelREZ welcomed new hotels across the UK, Europe and Asia, adding an estimated 1500 extra rooms to its international growing portfolio.
For more information on new properties, please visit http://www.hotelrez.net/press.
For requests and further information, contact HotelREZ on 0845 004 9393 or email us on info(at)hotelrez(dot)net.