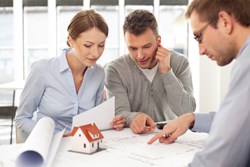 Mortgage loans for borrowers with poor credit
Yonkers, NY (PRWEB) November 19, 2013
For over 15 years, Nationalloans.com has been helping low credit borrowers find all kinds of loans, including personal, auto and other types of loans. Now, at http://www.nationalloans.com/, they are setting their sights on borrowers who seek to buy a home, but can't get approved for a mortgage loan due to a low credit score.
"Our expertise consists of our skill in matching credit-challenged borrowers with flexible, non-conventional lenders," stated Mr. James Shank, CEO of Nationalloans.com. "In the following months, we'll be focusing more effort into the mortgage market. We realize that many who dream of owning a home feel like it is an impossible dream due to the tighter lending requirements that resulted from the 2008 housing crisis."
In a recent article published by U.S. News and World Reporter writer Abby Hayes on Business Insider (at http://www.businessinsider.com/when-your-credit-score-is-low-for-mortgage-2013-11), people with less than stellar credit are encouraged: "Don't give up on buying a home yet! There are plenty of places to turn if your credit is too low to get a conventional mortgage." Those words ring true for Mr. Shank, who has seen low credit homebuyers find loans again and again throughout his career.
"Not qualifying for a conventional home loan is not the end of the road. We have assembled a network of lenders who loan to those with credit scores on the low end of the spectrum," stated Mr. Shank. "We've worked with many of these lenders for years and know there are viable mortgage options for credit-challenged borrowers."
In her article, Hayes overviews four ways for low-credit borrowers can go about finding a home loan. These include making a higher down payment, looking for alternatives to conventional loans, utilizing a homeownership counselor, and the most obvious step, raising credit scores. She notes that even though it becomes increasingly difficult to find mortgage once your credit score dips below 650, it is not impossible. One of the specific agencies she cites as having more flexible lending guidelines is the FHA. The FHA offers loans for borrowers with credit as low as 580 with a 3.5% down payment.
Mr. Shank supports those ideas and takes it a step further. "Those are all great possible moves," says Shank, "but at the end of the day, sifting through all the non-conventional lenders is a lot of legwork. Our website is built around the idea of making the whole process easier and faster for borrowers. Instead of people having to go out and turn over all the stones themselves, we've already done most of the hard work. All the borrower has to do is fill out a brief form and see what type of mortgages and rates are available in their state."
For more information or to find a mortgage loan, visit http://www.nationalloans.com/mortgage.html.