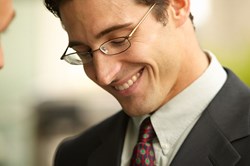 "We want as many firms as possible to experience the stress-reducing power of ClearCert's validation tools for themselves, so we are offering them complimentary access during 'No-Stress November.'
Cincinnati, OH (PRWEB) November 15, 2013
"Conversations with distributors of long-term care insurance products – Agencies, BGAs, MGAs, and Broker-Dealers – reveal that seven years into state implementation of the training requirement codified within the NAIC Long-Term Care Insurance Model Act, firms continue to struggle with ensuring that their representatives are in compliance," noted Bill Wienhoff, President of ClearCert. "We want as many firms as possible to experience the stress-reducing power of ClearCert's validation tools for themselves, so we are offering them complimentary access during 'No-Stress November.'
"The majority of LTCI distributors experience a disconnect between their determination of producer status and the carrier's," stated Wienhoff. "By using our validation tools, distributors can ensure their producers are carrier-compliant, and can correct or update producer transcripts when necessary – before submitting an application or contract to the home office. Current subscribers to our system report major savings in time and effort devoted to LTCI cases, and a lot less stress!"
ClearCert's Validation Tools are the gold standard for LTCI agent training compliance, relied upon by leading LTCI carriers - and many of their distribution partners.

The Agent Look-upTM displays a producer's transcript of course completions as reported by ClearCert's nationwide producer network. Users can request updates to a producer's transcript if necessary before submitting business.
The Reciprocity ReportTM calculates a producer's training compliance status in all 42 states that have implemented a requirement based on the 2006 Model Act on a single screen.
The Certification ReportTM instantly shows the producer's status in a selected state on a selected date and generates a pdf combining the producer's transcript and status.
Contact the ClearCert Membership Center at 800-653-3122 x3 or info(at)clearcert(dot)com to request complimentary access for the month of November.
About ClearCert
ClearCert is the gold standard for validating product-specific training compliance. More than 1,000 insurance carriers, distributors and training providers share data through the firm's clearinghouse. State-by-state training rules and courses pre-certified to fulfill them are published on the firm's website, http://www.ClearCert.com.