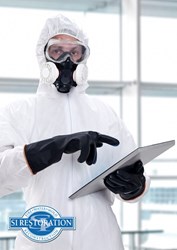 Certified mold inspectors will be able to locate the source of the infestation as well as determine the species of mold that has caused the colony to grow.
Mount Laurel, New Jersey (PRWEB) November 21, 2013
Thanks to superstorms like Hurricane Sandy, the Mid-Atlantic Region of the United States has learned just how dangerous indoor mold infestation can be. Residents and commercial business owners in states like New Jersey, New York, and Maryland are perpetually suffering from the hardships caused by mold growth brought on by high flood waters and bursting water pipes. Residential and commercial mold remediation specialists from across the eastern seaboard are consistently inundated with calls from home and business owners needing to rid their properties of the toxic fungus.
Mold will continue to grow indoors if it is not properly identified and located. Property owners suffering from constant mold growth share many similarities with victims of superstorms like Sandy. One of those similarities is that the source of the growth is not being addressed before remediation occurs. Mold growth happens due to severe storms, flooding, burst pipes, and many other types of water damage. While remediation specialists are excellent at removing the fungus from an affected area, the source of the issue must always be detected and addressed first.
SI Restoration, a leader in the mold remediation industry with over twenty years of experience, has dedicated its most recent publication to the independent certified mold inspectors that are necessary to ensure an affected area has been completely cured of its toxic fungal infestation. "Certified Mold Inspectors" offers unique insight into the business professionals who are licensed to protect consumers plagued by indoor mold growth.
SI Restoration urges the use of independent Certified Mold Inspectors for pre and post-testing during the remediation process. Third party inspectors will provide protection for consumers, negating any inherent conflicts of interest that would normally be present if a remediation company provided testing and results of their own. This protection guarantees that an unaffiliated third party has collected test specimens and calculated results that are proven and factual.
Certifications for inspectors can be obtained via various agencies such as the Association of Professional Industrial Hygienists (APIH) and the National Association of Mold Professionals (NAMP) among others. Property owners must be sure that their inspector's credentials are supported by their local city and state governments before entrusting their most valuable investment to them.
According to SI Restoration's latest publication, certified mold inspectors will be able to locate the source of the infestation as well as determine the species of mold that has caused the colony to grow. By determining the location of the colony, the moisture source can be exploited and addressed, allowing mold removal specialists to extract the toxic fungus permanently.
Of course, permanence requires property owners to properly maintain their homes and offices. Certified mold inspectors will also be able to provide a variety of ways to keep the home or business safe from future infestation.