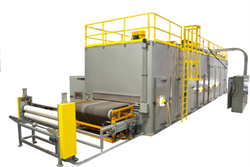 Chattanooga, Tenn. (PRWEB) November 14, 2013
Davron Technologies, Inc. designed, manufactured, and installed a hyper-efficient gas-fired continuous conveyor oven to cure rolls of cross-linked thermoplastics for a foam rubber manufacturer. Equipped with modulating natural gas burners and circulation fans that use Variable Frequency Drives (VFDs), the DTI-1098 system can be programmed to run within a wide range of settings while only using the amount of gas needed to reach and maintain the designated oven temperatures in the interior chamber, which is 6'6" wide x 59'0" long x 5'0" high.
With a maximum operating temperature of 500° F, the DTI-1098 continuous conveyor oven's chamber features seven temperature control zones. A series of blank-offs and dampers within the chamber regulate the temperatures in each of the oven's distinct zones.
The conveying system, a stainless steel wire mesh belt, also runs on VFDs so that the speed at which the foam rubber proceeds through the oven chamber can be adjusted. Six circulation fans circulate air within the chamber in a combination airflow pattern, impinging heated air on products moving through the system from both above and below. After products exit the heated chamber, they pass through a series of stainless steel water-chilled cooling rolls.
The oven's structural steel frame rests on the inside of the oven's exterior walls, which are made of 16-gauge carbon steel finished with high-temperature paint. The interior of the oven is constructed with 16-gauge aluminized steel backed by six inches of eight-pound-density mineral wool insulation.
The DTI-1098 continuous conveyor oven also comes equipped with a burner and belt system that cleans away thermoplastic residue from the conveyor during operation. A Programmable Logic Controller (PLC) with a 10-inch color touch screen controls the entire system, including heat, fan speed, conveyor speed, and cooling roll settings so that the oven can be adapted to treat a range of thermoplastic polymers.
Davron designed the DTI-1098 continuous conveyor oven from client temperature and airflow specifications, fabricated all components in house, programmed all systems and the PLC, and installed the oven at the customer's facility.
For more information about Davron's conveyor oven capabilities, visit http://www.davrontech.com. Or, if you'd like to discuss your own industrial oven project, please call Davron's Vice President, Jimmy Evans, at (888) 263-2673, or fill out Davron's online spec submission form.
About Davron Technologies, Inc.
Davron Technologies, Inc. custom fabricates industrial ovens, providing turnkey design and system integration services to develop thermal processing solutions. Davron is a total industrial oven manufacturer, creating custom industrial ovens and precision process equipment for every industry that requires thermal processing. Each Davron industrial oven is custom built according to customers' unique specifications. As the Provider of Industrial Oven Solutions, Davron offers one of the largest selections of in-house and on-site industrial oven services in the world.