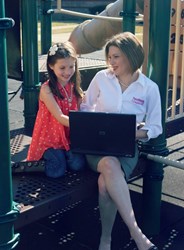 Finding Two Maids & A Mop has been a true blessing because I get to control my destiny everyday.
Nashville, TN (PRWEB) November 16, 2013
L.A. Martin's eyes shine brightly when she looks back on her life as the mother of an 8-year-old daughter. Three years ago, she was searching for a position that would allow her to have the freedom required of a single parent. She also had big aspirations of one day becoming an entrepreneur. Combining those two goals made the career search extremely difficult.
"I had a tremendous desire to control my own future after graduating from college with a business degree. I desperately wanted something more than just another job," said L.A. Martin. "But I had bills to pay and was all by myself so starting my own business looked to be nearly impossible."
Luckily, she had heard of a fast growing cleaning company that was looking for people just like her. Two Maids & A Mop had just opened its first location in Tennessee and she knew that they were in the process of opening additional locations. So L.A. decided to give a call to the company to see if she could join the team. L.A. struck gold because the founder of the company just happened to be in town for a short time.
"I still remember my first conversation with L.A. She was energetic, intelligent and you could tell that she knew what she wanted out of life," said Ron Holt, CEO & Founder of Two Maids & A Mop. "I wanted to know more about this person because she was a natural born salesperson over the phone."
The two scheduled an interview and L.A. quickly rose through the ranks to open her own office location in Knoxville. Sales grew quickly in Knoxville, so quickly that the company asked her to move back to Nashville in order to run the entire Tennessee territory.
"Finding this company has been a true blessing because I get to control my destiny every day. I've opened one office from the ground up and now I'm directly responsible for nearly fifty employees through our three locations in Tennessee. Best of all, I'm home every night and I've never worked one single weekend", said Martin.
The Two Maids & A Mop brand is now providing immediate franchise opportunities across all 48 states. The franchise concept is an ideal fit for parents who want to have a healthy work-life balance. No weekends are necessary and every office closes promptly at 5 PM. It's extremely rare for a business owner to be able to juggle both home and business life but the professional maid service allows for a healthy mix fortunately.
L.A. is thankful that her phone call was taken seriously three years ago. "I'm exactly where I want to be right now," said Martin. Using the systems created by Two Maids & A Mop makes my life easier and makes my family more money. I love the fact that I'm creating my future and living the American dream!"
You can learn more about the opportunity to franchise the Two Maids & A Mop brand by calling (205) 870-8643 or by visiting their website: Maid Service Franchise.