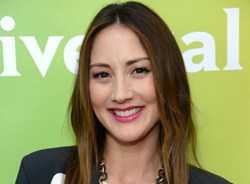 For me, when I think of Rosalee, this is a second lease on life. Coming back to Portland, being with Monroe -- I think Monroe really saved her.
(PRWEB) November 15, 2013
Currently, Bree Turner is recognized for portraying the sweet and lovable spice shop owner Rosalee Calvert on NBC's hit supernatural series 'Grimm.' Like the show, Turner has turned out to be quite the success and fans can't get enough of her character, especially in her Wesen form.
Turner recently chatted with TVRage.com's News Editor Allyson Koerner about 'Grimm's current season, the changes in Nick, whether Rosalee and Monroe will marry, and what to expect the rest of the season.
Here's an excerpt from the interview:
TVRage: Will Rosalee have to step in and work her spice shop magic to help Nick?
Turner: I don't know (laughs). We haven't really addressed it -- yet. We're about to finish Episode 11, and Rosalee has not been needed to come in and save the day for Nick, in these episodes that we shot -- so far. But, you never know.
TVRage: Let's move onto the relationship between Rosalee and Monroe. In last Friday's episode, the two said "I love you" and decided to move in together. Will they be living together by next episode?
Turner: I love this week's episode for our storyline, because we start moving in [and] unpacking boxes. I love what the writers are doing with us right now, the characters. They're portraying a lovely, honest portrayal of a modern couple right now and the stresses and worries and excitement that comes along with two people coming together, because we're not teenagers (laughs) … It's a nice adult relationship, and it's really satisfying to act with Silas [Weir Mitchell], and I just really love what's been happening for us this season. It's been really satisfying and enjoyable."
'Grimm' airs Fridays at 9/8c on NBC.