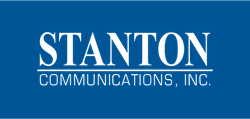 In making this move, we are now better positioned to serve those of our clients who regularly travel into the city for media briefings, interviews, trade shows and industry events. -- Peter V. Stanton
New York, NY (PRWEB) November 14, 2013
Following nearly 10 years on Madison Avenue, Stanton Communications, a national public relations firm, today announced it has relocated its New York City office to Rockefeller Center to accommodate new client activity. The new suite is located at 1270 Avenue of the Americas.
"We are very excited to be in our new location in the Rockefeller Center complex because it is so close to the offices of many of the media we interact with on a daily basis," said Peter V. Stanton, President and CEO of Stanton Communications. "In making this move, we are now better positioned to serve those of our clients who regularly travel into the city for media briefings, interviews, trade shows and industry events."
Concurrent with the office relocation, three new clients were added to the New York office roster. Included are the German technology research institute Fraunhofer IIS, best known for developing MP3, the ubiquitous audio codec that ushered in a new era in digital media. Fraunhofer selected Stanton Communications following a month's-long agency review and vetting process. The firm's extensive technology portfolio was decisive in the win. A.E. Smith Associates, a business advisory and corporate consulting firm based in New York City and led by the iconic Alfred E. Smith IV, engaged Stanton communications for web development and SEO as well as corporate communication. Kinsella Media, LLC also selected the firm for media relations services in support of its own client initiatives.
"We are very proud of this opportunity to work with such respected organizations," said Stanton. "These new clients, coupled with our relocation increase our agency's strength despite the slow recovery of the overall economy."
About Stanton Communications
Stanton Communications, Inc. is a national public relations firm with multi-category expertise. The firm represents some of the world's leading industry groups, corporations and non-profits and provides strategic counsel, marketing communications and public affairs services. Stanton Communications is active internationally through its membership in the international consortium of independent PR firms, PR World Alliance. Now in its 24th year, Stanton Communications remains intensely focused on client service excellence. For more information, visit http://www.stantoncomm.com.