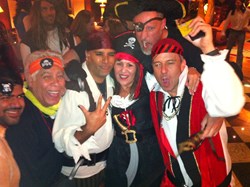 What we do is bring people together and provide an experience that fosters relationships between companies and their employees and vendors.
Montrose, CA (PRWEB) November 14, 2013
While many companies have yet to realize the full potential of Incentive Travel, the Meeting and Incentives team at Montrose Travel Corporate Services and Kenwood USA partner once again in 2013 for Kenwood's "Schmooze & Cruise IV" event.
For the last decade, Aash Shravah, Director of Corporate Sales for Montrose Travel Corporate Services, and his team have been working with Kenwood USA planning and creating an Incentive Travel Program that has proven successful in increasing sales and influential for Kenwood's growth and bottom line year over year. While others have canceled trips, viewing them as just an expense, Kenwood has continued to provide yearly incentive trips to their authorized dealers which in turn has motivated and incentivized vendors and business owners to sell more Kenwood products.
This year, Montrose Travel coordinated with long-time partner Royal Caribbean for a 7-day Southern Caribbean cruise aboard the Jewel of the Seas®. Schmooze and Cruise attendees arrived in San Juan, Puerto Rico and were treated to a night at the Caribe Hilton luxury beach hotel before departing on their week-long cruise. Ports of call included, St. Croix, U.S. Virgin Islands; Philipsburg, St. Maarten; St. John's, Antigua; Castries, St. Lucia; and Bridgetown, Barbados. The cruise was pirate-themed, where attendees and their families were invited to participate in themed activities, such as a costume welcome reception. "The pirate theme not only was a big hit with the group, but also generated buzz throughout the entire cruise ship which in itself was a great promotion Kenwood and ourselves," stated Andrew Wright, Montrose Travel Meetings and Incentives Sales Executive.
Over 360 Kenwood clients and vendors attended the trip in addition to Kenwood executives Keith Lehmann, Executive Vice President, Dave Hoag, Vice President of Sales, and Rita Kemp, Meeting Planner for Kenwood. Attendees included business owners and CEOs of stores who sell Kenwood's premium products. While a lot of businesses have viewed incentive trips as an expense, Kenwood take a different perspective calling their annual incentive trip "The best return on investment out of any of the Kenwood promotions throughout the year," Keith Lehmann.
The Montrose Meetings and Incentives team works year-long with Kenwood to create a client experience that goes above and beyond standard meeting services; "What we do is bring people together and provide an experience that fosters relationships between companies and their employees and vendors. With Kenwood, we've helped create an opportunity for business owners to come together and discuss ways they can be better retailers and business partners." says Aash Shravah, "It's not just about the trip anymore. We focus on the entire process from choosing the right destination, to promoting the trip, to sending out the appropriate marketing materials; all designed to motivate individuals towards their goals. The result is a successful bottom line that benefits all parties."
ABOUT MONTROSE TRAVEL CORPORATE SERVICES
Celebrating 56 years in business, Montrose Travel, a family-owned travel management company, has grown from 14 employees in 1990 to more than 200 today and is now firmly established as a Top 50 Travel Management Company with sales exceeding $180 million. Montrose Travel Corporate Services strives to provide the highest quality services and most complete corporate travel solution for its customers. Montrose Travel "will be here tomorrow to back up our promises of today!" Visit Montrose Travel's Corporate Services at http://www.MontroseCorporateTravel.com or call 1-800-766-4687. CST#1018299-10.