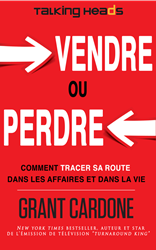 "When I learned how the translator found me it just underscored how social media platforms, in this case YouTube, play a major role in business and how information is exchanged in today's global marketplace." -Grant Cardone
Miami Beach (PRWEB) November 14, 2013
Grant Cardone's Axiom Award Winning business book, Sell or Be Sold, has been translated into French with the title "Vendre ou perdre." The book is is available on Amazon (print and Kindle) on Apple iTunes (for iBooks store), Kobo, Fnac (a large book distributor in France), Orange, Samsung eReader and a dozen other major platforms in the french-speaking market (including Canada). How the book reached France is an interesting testament to Cardone's commitment to engage with the world via social media by providing insights to people worldwide.
Two years ago during a US summer internship as a debt broker, French student, Valentin "Val" Lefebvre discovered Grant Cardone's YouTube page and started watching his videos daily for motivation and to improve his sales skills. That led to his purchase of Grant Cardone's series of business books the first of which was, Sell or Be Sold – How to Get Your Way in Business and in Life. Val also began training with Cardone's on-line sales university, CardoneUniversity.com. He was so impacted by Cardone, that he wanted to translate Sell or Be Sold into French and make it available to friends, family and everyone in his home country. He went to his father Alain Lefebvre, publisher of 20 books under the company Talking Heads, with the idea to translate the book. His father Alain agreed and now business professionals and students in France, will have access to this award winning book.
"When the request came through to translate Sell or Be Sold into French, I was really excited. I'm looking to expand globally, recently established a presence in Latin America, and was 100% on board to get Sell or Be Sold into France. When I learned how the translator found me it just underscored how social media platforms, in this case YouTube, play a major role in business and how information is exchanged in today's global marketplace," explains Grant Cardone.
According to publisher Alain Lefebvre, members of the French business community first and foremost are interested in results! Salespeople have a bad image and of course, good salespeople are hard to find and hard to keep. Anything that can improve the training of sales people, their motivation and even their vocation, is greeted as good news.
"'Vendre ou perdre' is different than any other sales book. It offers valuable, practical tools for people that aren't necessarily labeled "salespeople. We're all salespeople at the end of the day. Sales is the action of convincing others to buy into you, your ventures, and ideas in all aspects of life. Grant Cardone emphasizes real reasons to be interested and excel. All aspects are covered and sometimes in a very humorous way. Everyone who reads this book will benefit," offers Alian Lefebvre.
Like it's English version,  in "Vendre ou perdre" the international sales expert and successful entrepreneur offers step-by-step success strategies and helps the reader understand that everything in life is a sale and everything they want is a commission.
Cardone was inspired to write the book during the economic crash of 2008 to help people not just survive, but thrive during volatile times. Given his experience and expertise in sales, Cardone believes the ability to sell offers people an entrepreneurial approach to unlimited income. Through Talking Heads and the Lefebvre father and son team, "Vendre ou perdre" now brings this mindset to french-speaking people worldwide.
About Grant Cardone
Grant Cardone is an American entrepreneur, New York Times best-selling author, international sales and business expert, speaker, executive producer host of the Cardone Zone radio show and star of the reality TV show Turnaround King. Grant is regularly seen on CNBC, Fox, Fox Business, offering insights on business, financial and social issues and contributes to publications including Huffington Post, Business Insider, Entrepreneur, and American Express Open Forum. He is the author of four books (listed below) all written since the 2008 financial crisis:
1. "Sell or Be Sold," (2012) How to Get Your Way in Business and In Life.
2. "The Closers Survival Guide" (2009) The ultimate guide to completing the sale.
3. New York Times bestseller "If You're Not First, You're Last" (2010) Sales Strategies to Dominate your Market and Beat your Competition.
4. "The 10X Rule," (2011) The Only Difference Between Success and Failure
For more information on Grant Cardone visit http://www.grantcardone.com
Follow Grant Cardone on Twitter @grantcardone
Like Grant Cardone on Facebook: https://www.facebook.com/cardonesuccess
Over 1200 Videos can be found for free on Grant's YouTube Channel: http://www.youtube.com/user/GrantCardone