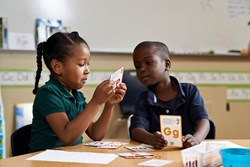 The external review helps us see ourselves through new eyes and be proactive in accelerating academic success for the students we serve.
Washington, DC (PRWEB) November 14, 2013
To strengthen the support and improve performance of its schools within the District of Columbia, Imagine Schools announced today that it has partnered with TenSquare to perform an in-depth review of its two Imagine Hope Community Charter Schools. TenSquare has already initiated this rigorous and comprehensive review of both the Imagine Hope Tolson and Imagine Hope Lamond campuses, the findings of which will supplement and inform Imagine's plan to improve academic outcomes of more than 800 students served at the two campuses.
The partnership with TenSquare was announced by incoming Imagine Schools' Executive Vice President Doug Mesecar. Mesecar is the most recent addition to the organization's national leadership team, which includes new co-CEOs and presidents, as well as the addition of a new chief school operations officer and new chief academic officer. Mesecar, former Deputy Chief of Staff with the U.S. Department of Education, brings a wealth of education experience and relationships to his role.
Mesecar sees the partnership as an important step in increasing rigor at Imagine's DC campuses. "These schools are accountable to - and measured by - the District of Columbia Public Charter School Board's Performance Management Framework," explains Mesecar. "The expectations are high, which is the right thing for students and schools. The external review we've commissioned, conducted by a well-respected independent educational firm, helps us see ourselves through new eyes and be proactive in accelerating academic success for the students we serve."
"There are some great strengths to build upon," he notes, "and both campuses have a team of committed and passionate educators. It's imperative that we take a fresh look at our schools in DC, roll up our sleeves, and get to work to accelerate the academic growth of our students and propel them to even greater success."
This external review is the latest in a series of steps Imagine Schools is taking to raise the expectations and outcomes for students served in DC. Along with the review, Mesecar points to Imagine Schools' recent implementation of its Academic Excellence Framework, an accountability tool based upon national best practices and strategies. He also references this year's increased use of data at both campuses to better target interventions and guide instruction. Continuing his list, Mesecar points out the use of common pacing guides, frequent benchmark assessments for students, and curricula aligned to Common Core standards.
According to Dr. Nancy Hall, Chief Academic Officer with Imagine Schools, the reviews have broader benefits for the network. "What we learn from TenSquare's review of our DC campuses will help us evaluate how we better support our schools across the network," she states. "I am eager to receive their recommendations so we can strengthen our approach, both locally and nationally."
Imagine Schools is a national family of 69 public charter schools educating more than 36,000 students in 11 states and the District of Columbia. Imagine Schools partners with parents and guardians to educate their children, providing high quality schools that prepare students for lives of leadership, accomplishment, and exemplary character. Learn more at http://www.discoverimagineschools.com.