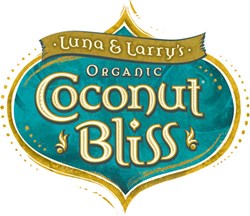 We could tell it was big, but I didn't think it would be this big. - John Moriarty, Executive Director, School Garden Project
Eugene, OR (PRWEB) November 15, 2013
Nearly 500 Eugenians crowded into the hall of the Unitarian Universalist Church of Eugene Saturday night to participate in A Night of Bliss 2013, hosted by Luna & Larry's Coconut Bliss.
A Night of Bliss is the organic, dairy-free ice cream company's annual fundraiser for local non-profits. This year's selected beneficiaries were the School Garden Project of Lane County and Beyond Toxics.
The event raised over $8500.00 from donations collected at the door and bids on silent auction and raffle items. There were more than one hundred goods and services generously donated by businesses and artists.
Guests enjoyed the music of two local acts, food provided by Cousin Jack's Pasty Company and others, and 16 flavors of Coconut Bliss ice cream complimented by vegan caramel, fudge and more.
"The success of A Night Of Bliss just shows how a community can come together, especially when there is fun and Bliss to share, and raise money for amazing causes", said Coconut Bliss General Manager Kim Gibson-Clark.
About Bliss Unlimited
Bliss Unlimited, LLC was founded to create a satisfying ice cream without the health and ecological impacts associated with dairy, soy, or gluten. Coconut Bliss® is the evolution of ice cream. USDA-certified organic and Non-GMO verified, Coconut Bliss® is based on cholesterol-free coconut milk that is packed with lauric acid and medium-chain triglycerides (MCTs), and sweetened with naturally low-glycemic agave syrup. The company values ecological and social sustainability, and strives to use the highest quality and most ethically produced organic ingredients it can find. The company is privately owned and based in Eugene, Oregon, and has been operating since February 2005. For more information about Coconut Bliss® products and where to buy it, visit http://www.coconutbliss.com.