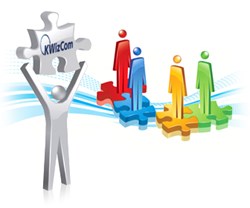 Toronto, ON (PRWEB) November 18, 2013
KWizCom Corporation, a world renowned provider of web parts and add-ons for Microsoft SharePoint, introduces Shared-Cost Development Model enabling the clients to save big while KWizCom's team of experienced professionals will analyze the business requirements and design, customize and develop a unique solution that will meet the customers' exact business needs.
Below is How KWizCom's Shared-Cost Development Model Works:
Step 1: Partnering with clients to share development costs and risks
When KWizCom sees potential in developing a custom project as a generic solution, the company will estimate the cost of development and will offer the clients to develop their custom solution at half the cost. It is worth mentioning, that unlike their competitors, KWizCom will partner with the customers by sharing their development costs and risks.
Step 2: Product quality development
With 40+ different SharePoint products, KWizCom leverages their extensive product development & QA framework expertise and business experience to save time, reduce risk and develop the custom solution as a generic product. This means the company makes sure the product is a standard SharePoint add-on according to Microsoft's guidelines, ensuring flexible and easy up keep, in order to reduce future maintenance costs.
The solution will go through KWizCom product QA cycle which includes functional, performance and accessibility tests, making sure the custom solution is completed and ready to be used by the internal customers from the onset.
Step 3: KWizCom will maintain the developed solution as a public product
Here is where customers save big!
It is a well-known fact that the longest part of a software solution life-cycle is the maintenance part. In order to maintain the developed solution clients need to have end-user support, fix bugs, develop change requests and continually update their solution when new versions and SharePoint service packs are released by Microsoft.
After KWizCom delivers the custom solution, they will move forward to release that custom solution as a KWizCom product. From this point onward, KWizCom will manage the product's roadmap and will provide support services, effectively eliminating over 90% of customers' maintenance costs!
As this solution becomes a generic KWizCom product, it will generate many new customers guaranteeing that the custom solution (as a product) will be maintained and continuously updated to support users' new requirements and continue operating perfectly when new SharePoint versions are updated and released over time.
Take advantage of KWizCom's Shared-Cost Development offering, a company whose mission with every project is to provide their customers with high-quality custom development services geared toward the perfect solution for their business goals.
Follow KWizCom on Twitter http://www.twitter.com/KWizCom
Become a fan of KWizCom on Facebook: https://www.facebook.com/KWizCom
Contact a KWizCom Account Specialist at +1-905-370-0333/+1-855-KWIZCOM or info(at)kwizcom(dot)com
About KWizCom Corporation
Since 2005, KWizCom has provided innovative solutions and services to make SharePoint even better for over 5,000 companies worldwide. KWizCom's solutions and services expand Microsoft SharePoint out-of-the-box capabilities, streamline workflow, maximize efficiency and enhance over-all productivity for hundreds of thousands of users. KWizCom, a Gold Certified Microsoft Partner, is headquartered in Toronto, Canada. Please visit http://www.kwizcom.com to find out more about KWizCom's clients, people, partners and solutions or to test any of the products for free.