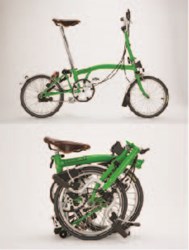 Elegant By Design
(PRWEB) February 08, 2014
In keeping with our mission to provide high quality, highly reliable alternatives to automotive transport, Pete's Electric Bikes would like to welcome Brompton folding bicycles to the family.
Brompton folding bicycles, made in England, are the perfect transportation solution for urban living. Pete's has chosen to carry Brompton bikes because they fit the company's desire to provide its customers with the best bicycling experience and commuting possible. Bromptons fold quickly, are easy to carry and store, and can be stowed inside instead of being locked outside. Brompton riders appreciate being able to hand carry bicycles on the bus, avoiding the need to use a rack or risk not being able to take the bus when the racks are full.
Pete's Electric Bikes has a broad selection of Bromptons available in stock for immediate purchase, and also offers customers the opportunity to order a Brompton custom build. Customers choose the handlebar type, colors, number of speeds and accessories and Brompton staff experts build bikes to individualized specifications.
Pete's plans to continue its quest for innovative eBike solutions by working closely with Brompton in the future.
Pete's staff invites customers to drop in for a test ride and to learn how easy it is to fit a Brompton into everyday commuting and life.
Pete's Electric Bikes is a fast-growing company that provides products and services across the entire spectrum of eBike transportation solutions. Known as the leader in eBike sales, service and design, Pete's is in demand for its expertise, design, manufacturing, distribution, retail and service of eBikes.
Pete's Electric Bikes
2710 Pearl St.
Boulder, CO 80302
303.586.1544
http://www.petesebikes.com
infoATpetesebikes.com