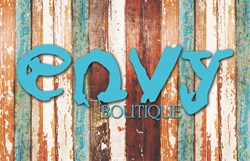 Huntsville, AL (PRWEB) November 15, 2013
ENVY Boutique, your go-to place for unique women's apparel, accessories, shoes and gifts, today announces its Annual Holiday Open House that begins Friday, November 15th and runs through Saturday, November 16th.
Owner Rachel MacNealy - Wesson, "We are unpacking box after box of the most spectacular items. Smart, trendy, savvy!"
ENVY's Holiday Open House this year is full of discounts and Trunk Show merchandise. Get looks from Michael Stars, Karlie, Tulle, DVF, Alice and Trixie, JWLA, Rich and Skinny, Tory Burch and more. Ginger and Rachel urge you to see their new offerings and get in on their famous Taco Bar.
"For 7 years, ENVY Boutique has been a staple in the Huntsville, AL area offering the latest fashion trends, designer labels and now our very own label," says ENVY owner, Ginger MacNealy.
Now, ENVY Boutique expands its reach and is taking their merchandise online at ENVY Boutique Online. Same quality merchandise and you don't have to drive to Huntsville to visit the store.
ENVY Boutique (http://www.envyboutiqueonline.com) is located at 617 Meridian St. North, Huntsville, AL 35801. You can contact ENVY by phone at 256-539-6790, Tuesday - Saturday from 11AM - 7PM CST or email at customerservice(at)envyboutiqueonline(dot)com.