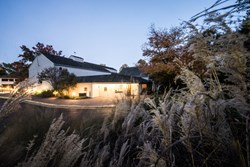 Vienna, VA (PRWEB) November 15, 2013
John Eaton
The Roaring Twenties: A Salute to the Jazz Age
Saturday, November 30, 2013 at 7:30 pm
$25-$27
This renowned jazz pianist showcases a reverent and inventive take on the Great American Songbook. In his tribute to the 1920s, Eaton highlights the illustrious discographies of some of the Jazz Age's most successful artists including George Gershwin, Fats Waller, and Hoagy Carmichael.
Video: John Eaton Talks with Wolf Trap
An Evening with
John Medeski in Concert
Solo Piano
Thursday, December 5, 2013 at 8 pm
$25
Masterful jazz pianist John Medeski showcases engaging and meditative compositions in this solo debut concert. In 1991 he cofounded Medeski, Martin & Wood, an immensely successful jazz trio that has released 21 acclaimed albums over the course of more than 20 years. His inspired, avant-garde piano playing stunned audiences from New York jazz clubs to rock festivals such as Bonnaroo. A Different Time –his solo debut album released last April– includes original takes on legendary folk songs like Willie Nelson's "I'm Falling in Love Again" as well as his own compositions. Critics are raving "A Different Time is an exceptionally sensitive and beautiful recording" (Popmatters.com).
Video: John Medeski – "A Different Time"
Bill Frisell's Big Sur Quintet
Featuring:
Eyvind Kang, Hank Roberts, Rudy Royston, and Jenny Scheinman
Friday, December 6, 2013 at 8 pm
$35
Grammy Award-winner Bill Frisell is an in-demand contemporary guitarist who has been blending rock energy with jazz spontaneity for more than four decades. In order to record his latest album, Big Sur (2013), Frisell formed Bill Frisell's Big Sur Quintet and crafted a combination of avant-garde and post-bop jazz with classical, folk, and country influences. "Big Sur is more than just a musical recording. It's a sonic novel—instrumental storytelling of the highest caliber delivered by an amazing storyteller. It's Bill Frisell at his best."—Downbeat
Video: Bill Frisell – "Big Sur Super 8"
Tickets can be purchased by calling 1.877.WOLFTRAP; or online at wolftrap.org.
For more information, call The Barns at Wolf Trap at 703.938.2404 or our general information line at 703.255.1900.
High-resolution images of the artists listed are available on Wolf Trap's website: wolftrap.org/Media_and_Newsroom/Photos_for_Publication.aspx.
###