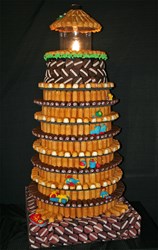 Ball's lighthouse is a stacked sugar-shock of Hostess dessert cakes called 'Twinkie, Twinkie, Little Lighthouse.'
Norwalk, CT (PRWEB) November 15, 2013
A Newtown, CT, woman's Twinkies® lighthouse has inspired a contest within a contest at The Maritime Aquarium at Norwalk.
Donna Kern Ball's entry in the Aquarium's 12th annual "Festival of Lighthouses Contest" is an enormous stacked sugar-shock of Hostess dessert cakes called "Twinkie, Twinkie, Little Lighthouse."
It inspired the Aquarium to offer a Facebook challenge to guess how many calories Ball's entry contains. The "Festival of Lighthouses Contest" exhibit runs from Nov. 16 through Jan. 20, but you only have until noon on Thurs., Nov. 21 to check out Ball's lighthouse and enter your calories guess at http://www.facebook.com/maritime.aquarium.
The person who guesses closest to the lighthouse's calorie count without going over will win a family four-pack of tickets to The Maritime Aquarium – a $65.80 value. (See an image of the lighthouse and the full contest rules on the Aquarium Facebook page.)
The Maritime Aquarium's "Festival of Lighthouses Contest" features 22 creative lighthouses made by artists, families and students. Through the holidays, kids and families can follow these homemade beacons through the galleries and then cast a vote for their favorite. The lighthouse with the most votes wins $1,500. There are cash prizes for second- through sixth-place as well.
Ball's lighthouse has eight levels of Twinkies, standing vertically. The even-numbered levels are rimmed by more of the famous snack cakes cut in half, arranged so they alternately face in and out – some showing the creamy filling, some not. The odd-numbered levels are rimmed by Ho Hos, each turned to show its rolled-up insides. Above all that are three levels of Hostess chocolate cupcakes, and then finally the lighthouse's light, which is topped by a conical crown covered in even more Twinkies.
On several levels, Ball added familiar children's playthings – a ball, a beach pail, roller skates, a doll and other objects – that look like they were made of Play-Dough. Actually, the objects are deliciously edible as well. Ball made them out of the cake-frosting material called fondant dyed in bright primary colors.
Other entries in the Aquarium's contest this year include: a gingerbread lighthouse; one made of tin; one made of green plastic soda bottles; a lighthouse that celebrates the children's board game Candy Land; and a World Series lighthouse set in a baseball stadium.
The exhibit is free with Maritime Aquarium general admission, which is $19.95 for adults, $17.95 for youths (13-17) & seniors (65+), and $12.95 for children ages 3-12.
For more details about Maritime Aquarium exhibits, IMAX movies and programs, call (203) 852-0700 or go online to http://www.maritimeaquarium.org.