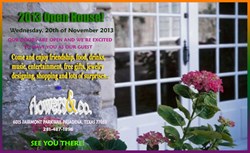 Love always wins.
Pasadena, TX (PRWEB) November 14, 2013
Flowers & Co. is hosting its annual open house on November 20th, 2013 from 11 am – 7 pm. The public is invited to visit the beautiful and grandly decorated store at 6015 Fairmont Parkway, Pasadena, Texas 77505 to join Flowers & Co. in nurturing the spirit of friendship, prosperity and love as it welcomes and opens the celebration of the holiday season in what promises to be a remarkable affair.
Flowers & Co. is calling all the cool people to be present at this year's open house. This year's event will be featuring a wide range of exciting activities, such as free gifts for the first 100 guests, food, drinks, music, entertainment, jewelry designing, shopping and lots of mind-blowing surprises no one wants to miss.
Flowers & Co. will have Author, Dr. Jay Horton present at the event. He'll be speaking and holding a book signing of his new must read book, titled "Life is Hard but God is Good, 12 Principles for Unlocking Your Potential," from 11:30 am to 1:30 pm.
Other speaker and acts that will be present in making this year's open house a sensation are:

Bruce Saxton, President, the Saxton Group. Mr. Saxton will be sharing a brief insight into "Power and Productivity" and the secret formula to getting things done by responding with action and not excuses, how to harness and cultivate the power to focus and take action not only vocally but proactively.
Gordon & Gail Smith: The meet your feet dance professionals will be gracefully demonstrating three types of dance.
Flowers & Co. will also be explicitly showing and reminding its community of its undying support and respect for every individual making an earnest effort to maintain, sustain and advance the development of the community and the great State of Texas. From the law enforcement agencies, teachers, medical practitioners to everyone who's making a meaningful and impactful contribution to the betterment of our country.
Flowers & Co. will also be taking and making donations to Project Joy & Hope. Project Joy & Hope is a foundation based in Houston-Galveston. Its mission is to support, enhance and promote the physical and psychological well-being of children who live with life-limiting conditions and to help their families through community awareness, education, program development and resource development. It also serves as the parent agency for the Texas Pediatric Palliative Care Consortium.
The Flowers & Company open house will be held on Wednesday, November 20th, 2013 between 11 am – 7 pm at 6015 Fairmont Parkway, Pasadena, Texas 77505. Parking is available to guests all around the premises. For more information on the hourly schedule of the event, call 281-487-1896.
Hope to see you there!
Bryan L. Aaron
President, Flowers & Co
http://www.yourhoustonflorist.com