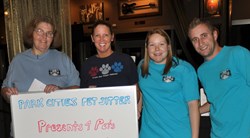 We extend our heartfelt appreciation to all those who donated to this worthy cause and helped to make the "Presents4Pets" campaign a success. - Joette White, PCPSI
Dallas, TX (PRWEB) November 15, 2013
This holiday season will be a little brighter for shelter pets and pets in lower income areas, thanks to the efforts of Dallas-based Park Cities Pet Sitter. Park Cities Pet Sitter joined forces with the National Association of Professional Pet Sitters (NAPPS) and pet sitters and owners from across the country for the third annual "Presents 4 Pets" campaign.
"Presents 4 Pets" is a national collection drive to benefit shelter and rescue animals. Held in conjunction with Humane Society of the United States National Animal Shelter Appreciation Week, November 3rd-9th, 2013, this program solicited products needed to help keep shelters and rescue organizations operational, and animals comfortable and safe.
As part of the program, NAPPS member Park Cities Pet Sitter reached out to their clients and to citizens in their community to encourage them to collect and donate products for this worthy cause. Items such as dog and cat toys, treats, blankets, towels, pet food, pet beds, leashes, collars, coupons, and money were collected and donated to local pet shelters and rescue organizations of the company's choice. Park Cities Pet Sitter collected $4270 worth of pet supplies and donations, which they divided between the Humane Society of Dallas County and Big Fix for Big D.
"We extend our heartfelt appreciation to all those who donated to this worthy cause and helped to make the "Presents4Pets" campaign a success," said Joette White, President of Park Cities Pet Sitter. "It is crucial that we remember animal shelters, rescues and the groups working so hard to spay, neuter and vaccinate the pets in our community. They work tirelessly year-round to improve the quality of life for pets in our city, and they deserve our support. We look forward to being able to participate in Presents 4 Pets again next year."
About Park Cities Pet Sitter: Park Cities Pet Sitter, Inc. has served the Dallas area 7 days a week, 365 days a year since 1992. Pet sitting, daily dog walks, pet taxis, overnight sitting, pet supply shopping, litter box cleaning and dog training are all part of the services PCPSI offers. Park Cities Pet Sitter is bonded and insured, and all sitters are employees--not independent contractors. A manager is on-call 24 hours a day to handle any emergencies. Additional information about Park Cities Pet Sitter can be found on their website at http://www.pcpsi.com.
About Humane Society of Dallas County: Dog & Kitty City is the name of the shelter operated by the Humane Society of Dallas County. Their mission is to: rescue and minister to the indigent animal population; provide shelter, love and medical care for all of their animals until they find a loving home; promote responsible pet ownership; provide on-going adoption support services to ensure a lifetime commitment from pet owners; eliminate animal cruelty through education; help to reduce animal over-population by providing services such as low-cost spay-neuter; foster a respect for all life. To learn more about them, visit their website at http://www.dognkittycity.org.
About Big Fix for Big D: The Big Fix for Big D initiative is a multi-year effort of four community partners to spay or neuter tens of thousands of pets in Dallas to significantly diminish numbers of unwanted litters, with the ultimate goal of reducing euthanasia at Dallas Animal Services and Adoption Center. Through the Big Fix for Big D initiative, the City of Dallas Animal Services and Adoption Center (DAS), Spay Neuter Network (formerly Kaufman County Animal Awareness Project, KCAAP), Metroplex Animal Coalition (MAC) and the Society for the Prevention of Cruelty to Animals of Texas (SPCA of Texas), will offer free spay/neuter surgeries, vaccinations and registrations. The Big Fix for Big D initiative is funded by The Companion Animal Funders Coalition; which includes The Dallas Foundation, The Meadows Foundation, PetSmart Charities®, The Rees-Jones Foundation, The Summerlee Foundation and The George and Fay Young Foundation. In-kind support is also being provided by The Marketing Arm and the City of Dallas. For more information, visit http://www.BigFixforBigD.com.
About NAPPS: NAPPS is the only national non-profit trade association dedicated to serving the needs of professional pet sitters. The Association aims to help the pet owning public, those interested in pet sitting, and professionals engaged in the in-home pet care industry by fulfilling its vision statement, serving as "the most respected authority in professional pet sitting." It does so by providing the tools and support to foster the success of its members. Additionally, pet parents can benefit from NAPPS' free resources including a disaster preparedness guide, tips on how to select a pet sitter, and a nationwide referral service,. To find a pet sitter, check out NAPPS' nationwide "Pet Sitter Locator" at http://www.petsitters.org. For more information on NAPPS, please follow @TheNAPPS on Twitter or join them on Facebook at facebook.com/TheNAPPS.