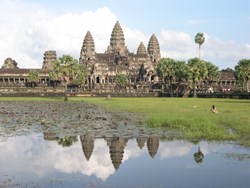 Vancouver, BC (PRWEB) November 26, 2013
Chinapac International is pleased to introduce the 17 Day Super Vietnam and Cambodia. Beautified with breathtaking coastlines, lush-green mountainous regions, cities immersed with culture and captivating history and cuisines that are sure to excite taste buds, Chinapac's 17 day excursion through the heart of South East Asia has it all. Small group departures with incredible quality and value from $2999 Air & Land from February through November 2014. Industry Discounts up to $500 for Journalists or Travel Agents are available.
Travelers will begin their journey in Saigon, Vietnam. The largest city in Vietnam, Saigon has transformed itself into a bustling and vibrant metropolis that fuses traditional and modern lifestyles. Travel back in time to ancient pagodas and local markets selling silks, spices, and woven crafts or be thrust into modernity of high-rises, world-class restaurants and designer stores. For history buffs, Vietnam is overflowing with stories to tell. The Cu Chi Tunnels excursion offers a slice of Saigon's historic roots involving the American War, where sight-seeing in Hue houses traditional Vietnam with 17th century French colonization.
The tour settles itself for 3 days in Hanoi, the capital of Vietnam. Tour-goers will find themselves in a fascinating city where the East blends with the West, with the elegance of Parisian culture. Hanoi is home to traditional Vietnam architecture, such as Ngoc Son Temple and the Temple of Literature. Adventurers will be at their leisure in Hanoi, from relaxing boat rides to strolls in the capital's parks.
The next leg of the tour takes travelers to Siem Reap, Cambodia. Angkor Wat, the largest religious monument in the world, is a national symbol of Cambodia. It is here where many visitors find themselves awed with not only the vast scale of the temple but with its mystical ruins and mythology.
The remaining part of this Indochina tour ends in the captivating and energetic city of Phnom Penh. Travelers will experience Cambodia's cultural heritage with a visit to the Royal Palace and National Museum. The Central Market shows a more modern side to the city, where it is situated in an Art Deco building. No matter what, Phnom Penh will satisfy curiosities about past and present.
Get early booking discounts if you book before December 31, 2013, save $200 /couple from March to November departures. Become a Chinapac VIP member and you'll be eligible to win $300 in Chinapac travel credits, plus be included in an exclusive mailing that details all the best deals in travel across Asia, world cruises specials and more. Chinapac searches you the best deal in town. You'll also get first dibs on most talked about China specials, Yangtze River, Bali, Thailand, Africa and India Holi Festival Tours.
Spread the good news to your friends and families and get yourself a free trip! Any travelers who bring 16 family and friends along, will travel themselves for free from Vancouver, B.C. Groups can come in all forms, from co-workers and family, to community groups and neighbours. It's always nice to travel with like-minded individuals. Contact our sales office for details.
Sign up to receive Chinapac Top 10 Deals Today!
You are invited to a Presentation at Chinapac Office at 1:30 p.m on Saturday, December 7, 2013. Limited seats, registrations required. Please email philip(at)chinapac(dot)com. The office is located at Unit 107, 511 West 7th Avenue Vancouver, B.C.
Call 1-800-661-8182 - Email info(at)chinapac(dot)com - Visit http://www.chinapac.ca
Chinapac International - A Premier China and the Orient Specialist Since 1985.
Voted 2013 by HelloWest Travel.com awards of Excellence as Specialist Wholesaler of the Year.
Join us for a trip of a lifetime!