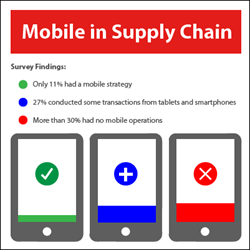 The challenge with the new, mobile supply chain, is that it is in its infancy.
Austin, TX (PRWEB) November 18, 2013
TAKE Solutions, a global leader in the Supply Chain Management and Life Sciences domains, today announced the findings of their most recent survey, which provides a glimpse of mobile adoption rates across supply chains of all sizes. The study found that while mobile reigns among the hottest topic of discussion, its adoption at the operation level may be surprisingly less widespread than expected.
The survey, which was conducted over a six month period at industry trade shows including Oracle Collaborate and Oracle Open World, found that only 11 percent of respondents had a mobile strategy for all supply chain operations outside the four walls. Additionally, more than 30 percent of respondents reported that their operations had no mobile capabilities outside the supply chain walls. Just over 27 percent of respondents conducted some transactions from tablets and smartphones.
The implementation picture does not get any brighter inside the organization's four walls. Of those surveyed, about 30 percent said their supply chain operations are not at all mobile, and a mere 16 percent claimed that all their supply chain interactions inside the four walls were mobile. Furthermore, only about a third of those surveyed reported some wireless scanning and printing capabilities.
"Despite all the discussion, mobility in the supply chain, like other emerging areas such as cloud and big data, still requires a lot of exploration and definition before it can really add value to operations," said Brad Huff, executive vice president and general manager at TAKE Supply Chain. "Although smartphone and tablet usage is seemingly nonstop among consumers, and almost as common among business users, the challenge with the new, mobile supply chain, is that it is in its infancy."
The survey also found that among the top challenge areas in supply chains visibility and control, and data accuracy and accessibility are virtually tied as the top issues, with cost reduction and management a close third.
TAKE Supply Chain conducted the survey with 145 procurement specialists, IT directors and operations managers at 96 organizations. A recap of survey statistics and Executive Vice President Brad Huff's commentary on the survey can be found at takesupplychain.com.
About TAKE Solutions
TAKE Solutions, Ltd. [BSE: 532890 | NSE: TAKE] is a leading global business technology company that delivers world-class software and services solutions for more than 400 leading companies. In the Supply Chain domain, TAKE's OneSCM® and GeminiSeries® product and suites include distinct technology with embedded IP that delivers expanded supplier collaboration, enterprise mobility, material tracking and workflow automation. In the Life Sciences domain, TAKE offers IP-based software and extensive knowledge-based solutions to enable efficient clinical, regulatory, safety and commercialization processes.
Headquartered in Chennai, India; TAKE drives its Global Delivery Center from India and the Middle East. U.S. headquarters are located in Princeton, New Jersey, with the Supply Chain Domain Excellence Center in Austin, Texas. For more information on TAKE Supply Chain, please visit http://www.takesupplychain.com. For more information on TAKE Solutions, please visit http://www.takesolutions.com.