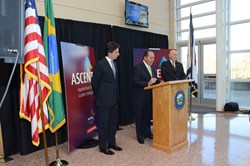 "Although we realize much work remains to be done, this announcement of a potential project is tremendous news for our state and our region," Gov. Tomblin said.
Parkersburg, W.Va. (PRWEB) November 14, 2013
Gov. Earl Ray Tomblin and Odebrecht announced today that Odebrecht will explore the development of a new petrochemical complex in Wood County, West Virginia. The complex, Ascent — Appalachian Shale Cracker Enterprise — would include an ethane Cracker, three polyethylene plants, and associated infrastructure for water treatment and energy co-generation. A purchase option on the anticipated project site in Parkersburg has already been secured.
"Although we realize much work remains to be done, this announcement of a potential project is tremendous news for our state and our region. I appreciate the hard work of my team from the Development Office and the Ascent team members who have come together to explore this investment. I look forward to working closely with them to help bring the project to fruition," Gov. Tomblin said.
Ascent's feasibility will depend on several important variables, including the contracting of long-term ethane supply, as well as financing, regulatory approvals, and appropriate governmental support.
Odebrecht will lead Ascent's investment and financing, as well as the operation of water and electric utilities. "Project Ascent fits within Odebrecht's commitment to be a partner in development in the regions where we operate," stated Fernando Reis, CEO of Odebrecht Environmental. "Moreover, Ascent fits into the strategy of our Utilities division, which seeks to invest and manage industrial assets."
Braskem would be responsible for petrochemical-related activities as well as the commercialization of the polyethylene after the investment is completed. "As the United States' leader in polypropylene production and with a significant footprint already in the region, we are excited about today's announcement," stated Fernando Musa, CEO of Braskem America. "Should Ascent materialize we look forward to serving our clients in the polyethylene market."
About Odebrecht: Founded in 1944, Odebrecht is a company of Brazilian origin with a global presence. Odebrecht is Latin America's leader in engineering and construction, chemicals and petrochemicals, and also operates in the areas of bioenergy, water utilities, defense, real estate, oil & gas, shipbuilding, and transportation and logistics. Operating in 26 countries, Odebrecht has more than 190,000 team members of 70 different nationalities and exports products and services to more than 70 countries worldwide. Odebrecht's global revenues equaled $41.3 billion in 2012. Odebrecht has been serving clients and investing in the United States for more than 23 years. For more information, please visit http://www.odebrecht.com.
About Braskem: Braskem is the largest producer of thermoplastic resins in the Americas. With 36 industrial plants in Brazil, the United States and Germany, the company produces over 35 billion pounds of thermoplastic resins and other petrochemicals per year. Braskem is the world's leading biopolymers producer with its 440 million pound green polyethylene plant that produces polyethylene from sugarcane-based ethanol. For more information about Braskem and its products, visit http://www.braskem.com.
About Odebrecht Environmental: In partnerships with communities, governments and businesses, Odebrecht Environmental invests in sustainable technologies to develop solutions in water and wastewater systems, industrial utilities and waste management. Part of the Odebrecht Organization, the company builds and operates water and wastewater services in several Brazilian states, including Rio de Janeiro, São Paulo, Pernambuco and Tocantins, covering 160 municipalities and benefiting 13.2 million people. Odebrecht Environmental has plants in large industrial operations in Brazil, treating effluents, recycling water and treating and properly disposing residues. For more information, visit http://www.odebrecht.com.
---
OFFICE OF THE GOVERNOR
Communications Office – Gov. Earl Ray Tomblin
FOR IMMEDIATE RELEASE: Nov. 14, 2013
Contact: Amy Shuler Goodwin, 304-558-4977