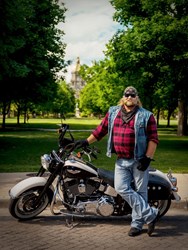 Provo, UT (PRWEB) November 18, 2013
BYUtv, the nationwide high definition television network of Brigham Young University, today announced the airing of a special episode of its Emmy® Award-winning series, American Ride based on the history and heritage of faith-based academic institution University of Notre Dame. Hosted by Stan Ellsworth – the 6'2", 300-lb, muscle-clad former football player, coach, and high school history teacher who tours the United States on his Harley Davidson, exploring the nooks and crannies of American history – the episode chronicles Notre Dame's story and acknowledges its position as a symbol of American culture where faith, fellowship and football converge.
The half hour episode will be aired repeatedly in the weeks leading up to the much anticipated football game on Nov. 23, when the Cougars face Notre Dame's Fighting Irish in South Bend, IN. The show will be broadcast to every state in the country, across the network's entire carriage of 53 million households immediately preceding kickoff at 2:00p.m.EST and again immediately after the game and post-game programming at approximately 7:30p.m.EST. (For additional airdates, go to byutv.org).
While American Ride episodes normally focus on the pivotal events of the nation's history, the upcoming high-profile football contest between two religious universities struck BYUtv as noteworthy, and inspired them to tell Notre Dame's story, from its initial founding to today. "The University of Notre Dame has a rich and inspiring history that interweaves faith, service and football with the world's highest academic rigor," said Derek Marquis, Managing Director of BYUtv. "We share a vision of creating educational institutions based on the concept that faith and intellect are both crucial and defining elements of higher-learning. While Notre Dame is an undisputed NCAA legend, the university stands for something much, much more and is a powerful means of doing good in the country and the world. That mission resonates with us at BYUtv."
"It was a genuine pleasure to work with Stan and the entire crew from BYUtv and American Ride," said Dennis Brown, assistant vice president and spokesman for Notre Dame. "We appreciate the time and care taken in producing the show and think that it provides an excellent overview of Notre Dame's past and present. The commitment to integrating faith and reason is shared by Notre Dame and BYU, and as the show illustrates, Notre Dame was founded upon that premise and continues to live by it today."
The episode details the history of the Catholic Order of the Holy Cross' goal to build a university, provides background on founder Father Edward Sorin, tours the campus highlighting academic programs, student life, places of worship and ultimately focuses on the world-renowned athletic program.
Ellsworth notes in the show that walking into the stadium at Notre Dame, down the tunnel and onto the field "wakes up echoes and memories of a history that is important to every American." On Nov. 23, for Cougars and Fighting Irish fans, as well as NCAA football fans of all faiths throughout the world, those echoes are going to be wide awake. As the American Ride host says, "It's Saturday afternoon football at the University of Notre Dame and there's no other place like it on earth."
BYUtv televises more than 125 live sporting events each year, including basketball, baseball, softball, gymnastics, volleyball, and soccer, as well as football. BYUtv continues to expand its sports following nationally, drawing new viewers from the fan bases of competing teams. Sports programs include Pre-game and Post-game Live, Half-time Live, BYU Sports Classic, NCAA/Club Sports, BYUtv GameDay Replay, BYU Sports Flashback & BYUtv Sports Special.
About BYUtv
Owned by Brigham Young University and based in Provo, Utah, BYU Broadcasting's groundbreaking High Definition national network, BYUtv, has built its roster of original "see the good in the world" television programming to fill a void in the primetime market. Amidst the proliferation of TV content, the network's offerings stand out for their thoughtful examination of redeeming elements in our fast-paced, multifaceted world. The topics are varied and nuanced. Whether through unrivaled live college sports coverage, documentary and feature films, scripted comedy, scripted dramas or unscripted reality programs, BYUtv is a vital presence in the contemporary television landscape, available in High Definition and carried to more than 53 million homes in every state of the country via cable, satellite and multiple digital media platforms including byutv.org, iOS apps for iPhone and iPad, Roku, as well as new apps for Android and a channel on the Microsoft Xbox 360 platform (later this year). The non-commercial network's reach is unprecedented at any university in the world, and offers approximately 1,000 hours of original programming annually, including 500 hours of live HD collegiate sports. BYU Broadcasting recently received sixteen Emmys, ten of which were awarded to BYUtv, from the annual Rocky Mountain Southwest Chapter of the National Academy of Television Arts and Sciences, and was recognized for its outstanding 2013 season of original and diverse offerings.