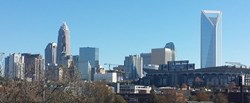 "Charlotte is the fastest-growing urban area in the country, and for good reason," said Charlotte Mayor Patsy Kinsey.
Charlotte, NC (PRWEB) November 21, 2013
Charlotte, one of the top 10 fastest growing cities in the country according to Census Bureau data, is offering new incentive programs to attract more business to the community. Looking to continue the influx of both business and residence (the city's population has more than doubled - 315,474 in 1980 to an estimated 775,202 in 2013), these business incentives send a message that we are business-friendly to the rest of the world.
"Charlotte is the fastest-growing urban area in the country, and for good reason," said Charlotte Mayor Patsy Kinsey. "We offer a business-friendly atmosphere; a low cost of living; and many of the benefits of a larger city coupled with a strong, family-oriented sense of community. Our city government is committed to maintaining all these benefits and we look forward to welcoming a continuing stream of new residents in the years to come."
"We're serving more business moves to Charlotte today than ever before," says Todd Koepke, co-owner of TNT Moving Systems. "This vibrant city accommodates the growing interest from the business community very well. Hosting the Democratic National Convention in 2012 put Charlotte on the map for many international companies." Koepke believes these latest business incentives and programs are solid reasons why businesses are choosing Queen City today:
1) The BusinessFirst Charlotte Program;
2) The Leadership Charlotte Program;
3) Charlotte/Mecklenburg Business Investment Program;
4) The Charlotte Business Inclusion Program; and
5) Additional state, county, and city tax Incentives
Other reasons for growth include:
6) Easy access to an International Airport ;
7) Expanding infrastructure around the city;
8) An experienced, highly educated and diverse labor pool;
9) Cost of living/cost of housing;
10) Family-oriented atmosphere with good public and private schools.
And in recent years, 274 Fortune 500 companies have established facilities in Charlotte, with eight Fortune 500 companies choosing Charlotte as their headquarters. As the second largest financial hub in the country, next to New York, job offers by banking industry players have helped this city's population swell over the past decade. Other industries have chosen Charlotte as a place for growth including energy and healthcare. Other contributing factors, according to a March 2013 Wall Street Journal article, to Charlotte's growth are the influx of Northerners who are escaping the high cost of living and a warmer climate.
According to Todd Koepke, owner of T-N-T Moving Systems in Charlotte and the official movers of the Carolina Panthers, there is a human side to why Charlotte is growing. "You can take all of the statistics from the Chamber of Commerce and the Census Bureau; roll them all together and it still doesn't point to the human side as to why Charlotte is growing." In our interview, Koepke indicated that he thought overall it was the welcoming, educated and diverse population that is making the difference.
"People moving from the North to the South are looking to find good places to work and a community that will embrace their families. For them, Charlotte is the perfect answer. There are great job opportunities and we hear from our relocation moves all the time that their families are finding friendly, welcoming people that live here. It makes the difference!" says Koepke.
As the official movers of the Carolina Panthers, T-N-T Moving Systems has 18 years of experience moving people and businesses locally, regionally as well as nationally. For more information on T-N-T Moving services, or to get a quote, reach out to Todd at (704) 523-1455.