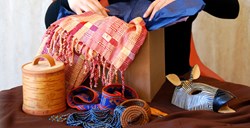 San Francisco, CA (PRWEB) November 15, 2013
GlobeIn launches its Artisan Gift Box Experience. For $30 a month, members receive a curated collection of crafts made by supported artisans from a far-off land.
Conscious consumers may buy the box for themselves or as a socially responsible Christmas gift – purchasing an amazing present that also puts money in the hands of small-town artisans across the world.
"The Gift Box builds value for both our customers and our artisans," says Vladimir Ermakov, Co-founder and CEO of the eight-month-old social startup. "Our goal is to connect a billion working people with the global marketplace. The Gift Box supercharges our impact on each month's artisan."
What's in a Box? Everything from the packaging itself to the crafts inside are hand-created by GlobeIn member artisans. Each month, the Gift Box comes filled with crafts and stories from one special artisan. That means that each artisan benefits from a large order, and that each customer enjoys preferred pricing on incredible items.
Thanks to the scale of group membership, the items in each month's box are worth more than the $30 subscription cost (which includes shipping). "Because we're buying directly from the artisans, we're able to pay a fair price for each craft while sending items that retail for a much larger price," says Ermakov. Additionally, customers can personalize their monthly collection – choosing between different categories of items including Jewelry, Home Décor and Ethnic Accessories.
Chasing a Billion
GlobeIn's goal is to impact the lives of a billion working people across the world. With a rapid growth rate over its first eight months, GlobeIn has enrolled more than 160 artisans in its program – telling their stories and offering more than 2,700 items for sale on its website. Ermakov is proud of the numbers: "When you consider that we have to personally find, photograph and interview each of our member artisans, and then independently post each of their items for sale, the feat is pretty incredible."
"Etsy uses its sellers to market their own items," says Ermakov, "Our artisans have no such resources. Most don't have computers, much less English language proficiency, so we have to be their voice."