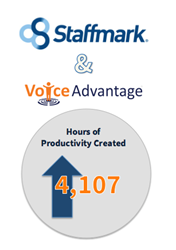 If we need to screen 200 people in two days, we can do that. This is a huge time and resource saver for the field.
Milwaukee, WI (PRWEB) November 18, 2013
Innovation and execution are a powerful combination, and the pairing of Staffmark's Talent Acquisition Group (TAG) with Voice Advantage demonstrates exactly that. Voice Advantage is an award-winning platform for video and phone interviews. Staffmark has been an industry leader in staffing solutions for over forty years. Staffmark's success is driven by a focus on quality and has resulted in it being named to Inavero's 2013 Best of Staffing - Best Client Service list. Fewer than 1% of North American staffing firms have been named to that list.
Part of delivering quality is being able to react to diverse local needs of clients. Client staffing requirements can vary drastically over time and geography. To address this variability, Staffmark created the Talent Acquisition Group (TAG), which offers virtual and centralized support to local field offices when client needs exceed the local field office's capacity. In order for TAG to support these offices effectively, it needed access to tools that offered flexibility and increased capacity. TAG turned to Voice Advantage and has seen dramatic results as outlined in a new case study. The study details how TAG saw recruiter capacity increase by 100% and their review times decrease by 20 times. The time savings were significant.
"If we need to screen 200 people in two days, we can do that. This is a huge time and resource saver for the field," said Jean Mauzé, Director - Talent Acquisition Group at Staffmark.
"Helping our clients realize success like this is why we love what we do," said Kevin Lindbergh, Director of Strategic Accounts at HarQen, makers of Voice Advantage. "Staffmark has been an exceptional partner, and their enthusiasm and energy has been amazing. The results in this case study bear that out."
The case study can be downloaded from the Voice Advantage website at http://www.voiceadvantage.com, where visitors can also explore the Voice Advantage candidate experience.
About Staffmark (http://www.staffmark.com):
Staffmark has a long and successful history in the staffing industry. Founded in 1970, it has grown to be one of the top ten commercial staffing companies in the United States. It has over 300 locations across 32 states.
About Voice Advantage (http://www.voiceadvantage.com):
Voice Advantage provides a simple, mobile-friendly web interface allowing job seekers to record interview responses at their convenience and recruiters to review candidates 10 times faster, while eliminating scheduling hassles and courtesy interview headaches. Voice Advantage was named Human Resources Executive, Top HR Product of the Year in 2010 and is powered by HarQen.