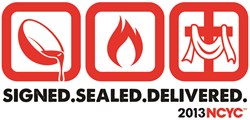 Their committment to their Catholic faith is a genuine response to the Gospel challenge of being disciples of Jesus Christ
(PRWEB) November 15, 2013
In just one week, on November 21-23, 24,000 Catholic youth and their chaperones will be gathering at Indianapolis' Lucas Oil Stadium for a 3-day conference of prayer, service, and faith formation called The National Catholic Youth Conference, otherwise known as NCYC.
Over the course of the 3-day conference, Catholic Relief Services and Stop Hunger Now, Helping Hands will be onsite in the "Inspiration Junction Theme Park" at the Indianapolis Convention Center to lead youth in the service of packaging meals for people who are suffering from food shortages and famine.
Individuals and groups are encouraged to sign up in advance for a shift. The goal is to package 100,000 meals before 6:00 pm on Saturday, November 23.These meals will be boxed and sent to West Africa.
"The enthusiasm and service of our young people at NCYC is a very hopeful experience for all Church leaders, and their commitment to their Catholic faith is a genuine response to the Gospel challenge of being disciples of Jesus Christ," says Dr. Robert McCarty, executive director of the NFCYM.
The National Catholic Youth Conference offers a doorway to engage youth from all over the U.S. 35 U.S. Catholic Bishops will participate and join in this event produced and presented by the National Federation for Catholic Youth Ministry.
Other service opportunities at NCYC include: decorating backpacks and tennis shoes for kids in Haiti, making super hero capes for Peyton Manning Children's Hospital, fleece blankets for babies at St. Elizabeth's, wreaths for local nursing homes, and donating hair to Locks of Love for children with hair loss due to a medical condition.
This year's conference theme: Signed, Sealed, Delivered, offers a dynamic program of worship and witness, and is the largest biennial gathering of Catholic teenagers in the country.
Live streaming of the main sessions from Lucas Oil Stadium will be provided for free to all those who cannot attend. A link to the live stream can be found at http://www.ncyc.info.
ABOUT THE NATIONAL CATHOLIC YOUTH CONFERENCE
The National Catholic Youth Conference is held biennially and gathers more than 20,000 Catholic teens, parish youth ministry coordinators, pastors, parents, school campus ministers, adult chaperones, and diocesan leaders. The conference is sponsored by the National Federation for Catholic Youth Ministry and offers a three-day experience for young people to become strengthened in their Catholic identity and have the opportunity for prayer, catechesis, reconciliation, Eucharist, service, and recreation. NCYC began in 1983 as a regional conference. NCYC was merged into a national conference in 1991. The 2013 NCYC theme is Signed, Sealed, Delivered. For more information, visit http://www.ncyc.nfcym.org and on Facebook at http://www.facebook.com/NationalCatholicYouthConference.
ABOUT THE NATIONAL FEDERATION FOR CATHOLIC YOUTH MINISTRY
The National Federation for Catholic Youth Ministry, Inc., a nonprofit organization, is a broad internationally recognized leadership alliance for Catholic youth ministry. Its mission is "To serve those who serve the young Catholic Church." With the national office located in Washington D.C., the NFCYM 's membership is comprised of 179 Catholic dioceses in the U.S. including U.S. military bases throughout Europe, the National Catholic Committee on Girl Scouts and Camp Fire, and 64 youth-serving organizations known as Collaborating Members. In addition to advocacy, research, and support for the field of youth ministry, the NFCYM is the executive producer of the largest single gathering of Catholic youth in the U.S. at the biennial National Catholic Youth Conference as well as the largest gathering of Catholic youth ministry leaders at the biennial National Conference on Catholic Youth Ministry.
ABOUT CATHOLIC RELIEF SERVICES
Catholic Relief Services is a leader in innovative, humanitarian programming that helps people live to their full potential with dignity and in a peaceful society. CRS programs are holistic, promoting individual and community well-being. CRS is determined to end the need for food assistance over time with long-term, sustainable solutions to hunger.
ABOUT STOP HUNGER NOW
Stop Hunger Now is an international hunger relief organization that coordinates the distribution of food and other lifesaving aid around the world. Stop Hunger Now developed a fun, efficient event during which volunteers package dehydrated, high-protein and highly nutritious meals that are used in crisis situations and in meal programs for schools and orphanages in developing countries. For more about Stop Hunger Now, please visit: StopHungerNow.org.