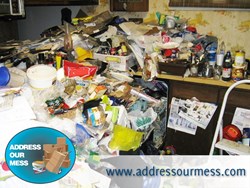 Friends and loved ones often do not know enough about hoarding or the signs that someone they know is suffering with it.
Mount Laurel, New Jersey (PRWEB) November 19, 2013
It is no surprise that the hoarding condition can cause embarrassment and social anxieties in those who struggle with the debilitating mental condition. Hoarders not only hide behind mounds of clutter and collectibles that cripple their living space, they also hide behind a veil of secrecy that keep even their closest loved ones at bay. Friends and loved ones often do not know enough about hoarding or the signs that someone they know is suffering with it.
Address Our Mess, an industry leader in the hoarding and clutter cleaning community, has been helping hoarders change their lifestyle in locations across the United States for over twenty years. Along with providing exceptional deep cleaning services to their clients, Address Our Mess case managers also offer unique insight into the lives of hoarders. In their recent publication entitled "Types of Hoarding," Address Our Mess identifies several main examples of hoarding and how those who are willing to help can become involved.
The clutter cleaning experts list the following as prime examples of hoarding:

Chronic Shopping Hoarding
Food Hoarding
Garbage and Trash Hoarding
Paper Documents and Mail Hoarding
Each of these five main types of hoarding possess unique sets of dangers. Among common physical threats like fire hazards and structural damage, hoarders can also experience disease epidemics caused by rotted food, bodily fluids, and vermin. Hazards like fallen mounds of clutter and debris can trap a person, causing starvation, asphyxiation, or even death due to injury. Animal hoarding can cause a variety of pathogens and allergens to wreak havoc in the home, causing severe illness or death.
Those willing to help suspected hoarders are often not afforded an opportunity to see a hoarded home with their own eyes. Many hoarding questions may go unanswered if evidence is ignored. Address Our Mess reveals signs that a friend, neighbor, or loved one may be struggling with the hoarding condition.
Some telltale signs of hoarding are social anxiety or isolation, odd odors or smells emanating from someone's clothing, abrupt financial troubles, mood swings, and ceasing of invitations to their home. Because building trust is so important in the recovery process, those willing to help must first earn trust by being respectful about a hoarder's situation.
To learn more about successful methods used to identify examples of hoarding and where to get cleanup help, click here.