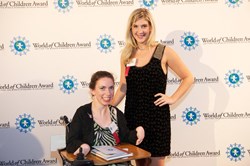 The Honorees you met here tonight and the 95 others that have been on this stage over the past 16 years have never wavered
New York, NY (PRWEB) November 15, 2013
Seven heroes who have dramatically improved the lives of children around the world were honored in New York City on November 7, 2013 by World of Children® Award (http://www.worldofchildren.org), the only global recognition and funding program that recognizes individuals serving vulnerable children worldwide.
Held in Manhattan's Upper East Side, the event attracted 500 guests – including celebrities, press and leaders of major fashion brands – and raised close to $800,000. A full recap of the evening can be found at http://www.worldofchildren.org/AwardsCeremony.
Hailed by the media as the "Nobel Prize for Child Advocates," receiving a World of Children Award is an annual honor that includes a cash grant of up to $75,000. Since 1998, World of Children Award has given more than $5 million in cash grants and program support to 100 heroes who have innovated life-changing programs benefiting children in over 140 countries.
World of Children Award is led by Co-Founders Harry Leibowitz and Kay Isaacson-Leibowitz, retired senior executives from Procter & Gamble and Victoria's Secret respectively, who first started the organization to honor individuals serving children with a Nobel Prize-like award.
"The Honorees you met here tonight and the 95 others that have been on this stage over the past 16 years have never wavered," said Harry at the end of the evening. "They have run toward the challenge, not once, not twice, but again and again and again–often showing total disregard for their own well-being. And you know why they do it? One simple reward–the smile of a child."
The event recognized seven individuals serving children in different areas of the world. Over the course of the evening, each officially received their Award and had the chance to speak about their work onstage.
"Through this award, we can show students with disabilities their dreams matter and athletes' actions matter in the movement toward more inclusive and compassionate schools," said Sarah Cronk, founder of The Sparkle Effect, and recipient of the 2013 Youth Award. "I couldn't be more grateful for this opportunity."
For 16 years, World of Children Award has used a rigorous vetting process to identify the world's most effective changemakers for children and provide funding for their efforts to improve young lives. The nonprofit's exhaustive research and vetting of applicants for their Awards has been lauded by some of the world's leading philanthropic organizations.
"Sustainable, practical giving to real life heroes, that's how we operate," said actress Stephanie March, celebrity ambassador for World of Children Award. "We are working to create a world that no longer needs our services. Until such a time comes, World of Children Award will continue to elevate those in the field."