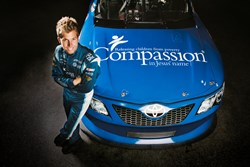 Blake Koch is an incredibly inspirational NASCAR figure and Compassion is deeply grateful for his partnership.
Colorado Springs, CO (PRWEB) November 14, 2013
Compassion International NASCAR Nationwide Series driver and child advocate, Blake Koch will make his first start with RAB Racing Saturday, Nov. 16 in the No. 29 Compassion Racing Toyota Camry at Homestead-Miami Speedway.
The West Palm Beach native, Koch will make his 86th start in the NASCAR Nationwide Series, and has the goal of beating the other 39 competitors on the race track. Off the race track, Koch partners with Compassion International to help as many children living in poverty that he can.
"Homestead is a big deal for me; it's my home track," says Koch. "I have my only top 10 qualifying there, and I feel like we have everything in place to have an amazing weekend. But the most important thing about the weekend is that we will have Compassion Racing in front of millions of people. These children living in poverty can't speak up for themselves, but we can speak up for them and that's what this weekend is about! By sponsoring a child you will change their story forever; you will give them the opportunity to succeed."
"I can't help but be a fan of a young man with this kind of a heart for helping children in poverty," said Jimmy Mellado, Compassion CEO and president. "Blake Koch is an incredibly inspirational NASCAR figure and Compassion is deeply grateful for his partnership."
The NASCAR Nationwide Series Ford Ecoboost 300 takes place this Saturday, Nov. 16 at 7:30 p.m. ET at Homestead-Miami Speedway in Homestead, Fla. To schedule media appearances or interviews with Blake Koch, please contact Michelle Figler at 561-512-6726 or email her at michelle(at)blakekoch(dot)com. Learn more about Compassion Racing at compassionracing.com.
About Compassion International
Compassion International is the world's leading authority in child sponsorship. Compassion revolutionized the fight against global poverty by equipping the Church to develop children out of poverty to become responsible and fulfilled Christian adults. It is the only child sponsorship program to be validated through independent, empirical research. Today, Compassion partners with more than 6,000 Christian churches in 26 countries to release more than 1.4 million babies, children and students from poverty in Jesus' name. Compassion has been awarded the highest rating for financial stewardship and transparency for 12 consecutive years by Charity Navigator, America's largest charity evaluator. For more information on the ministry, visit compassion.com or follow on Twitter at @compassion.