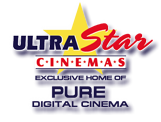 Maricopa, AZ (PRWEB) November 15, 2013
The UltraStar Multi-tainment Center at Ak-Chin Circle, an almost 170,000 sf entertainment mecca, 25 minutes from downtown Phoenix, is available for holiday corporate events, networking mixers, meetings and conferences. The largest of its kind in the entire Southwest, the Multi-tainment Center features 24 lanes of bowling, a two story laser tag arena, gourmet dining, arcade, an adults-only sports lounge and more.
A step above your typical holiday party, UltraStar provides a comfortable, professionally designed auditorium environment suitable for seminars and team building with state of the art sound and lighting in spacious theaters, a step above typical conference centers. Plus, you can incorporate a blockbuster hit into your holiday party in one of our state-of-the-art luxury theaters.
UltraStar offers packages with options ranging from theater rental to the addition of laser tag, movies, bowling, arcades, food and beverage. The state-of-the-art sound and lighting and relaxed stadium seating command attention and dramatically enhance the power of company events.
UltraStar can also offers adult, kids, field trip, youth group and VIP packages. For more information on holding events at UltraStar, visit: http://www.ultrastarakchin.com or email: mcevents(at)ultrastarmovies(dot)com.
About UltraStar Multi-tainment Center at Ak-Chin Circle:
The UltraStar Multi-tainment Center at Ak-Chin Circle, an enterprise of the Ak-Chin Community, is operated by California-based UltraStar Cinemas. UltraStar Cinemas is recognized for pioneering the digital age of cinema. They are the first theater group in the world to be fully equipped with Pure Digital Cinema® powered by DLP Cinema® technology in all of their locations. The UltraStar Multi-tainment Center at Ak-Chin Circle features "One stop, non-stop entertainment." Guests experience adventure, competition, entertainment and relaxation all conveniently located under one roof. The Multi-tainment Center features state-of-the-art digital theaters, bowling, dining, sports lounge, live entertainment, laser tag and arcade gaming as well as corporate and private event facilities. It is located at 16000 Maricopa Rd., Maricopa, AZ. http://www.ultrastarakchin.com
Media contact:
Christine Holtz
Phoenix Marketing Associates
602-282-0202