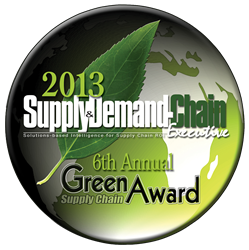 ...unparalleled insights to implement the best green practices throughout...
Chicago, IL (PRWEB) November 19, 2013
AFN, an award-winning logistics and supply chain company, is pleased to announce that it has once again been awarded the prestigious Green Supply Chain Award by Supply & Demand Chain Executive magazine. This is the second consecutive year that AFN has achieved this honor, which recognizes companies who make sustainability a core part of their strategy and are working to achieve measurable sustainability goals within their own operations and/or for their clients in the areas of Sourcing/Procurement, Fulfillment/Logistics, Operations, Product Lifecycle Management, and other areas of the supply chain.
Over 100 submissions were received. They were judged based on the clarity and content of the program goals and strategy (30 percent), the extent of the steps being taken (30 percent), the impact of the results to date and projected results (30 percent), and the form and presentation of the information submitted (10 percent).
AFN was awarded the honor based on the "green" practices it adheres to when serving its clients in the retail and manufacturing industries. "Working with hundreds of manufacturers, shippers and motor carriers has given us unparalleled insights to implement the best green practices throughout the transportation chain without sacrificing customer satisfaction, safety or on-time delivery," said Michael Nervick, CEO of AFN. "In many instances, what makes sense for the environment also makes sense for the shipper and motor carrier. Afterall, our core mission is to eliminate inefficiencies for our customers and, in our view, inefficiency is one of the biggest environmental offenders."
To download a whitepaper describing AFN's Six Smart Environmental Logistics Practices, click here.
About Supply & Demand Chain Executive
Supply & Demand Chain Executive is the executive's user manual for successful supply and demand chain transformation, utilizing hard-hitting analysis, viewpoints and unbiased case studies to steer executives and supply management professionals through the complicated, yet critical, world of supply and demand chain enablement to gain competitive advantage. Visit us on the Web at http://www.SDCExec.com.
About AFN
Serving motor carriers, manufacturers and retailers since 2003, AFN (formerly known as Advantage Freight Network) is an award-winning leader in freight brokerage, third party logistics and transportation management services. We are known for our commitment to client service, our proactive approach to fighting cargo theft and our expertise in retail compliance. To learn more about AFN, visit http://www.loadafn.com or call 877-LOAD-AFN.