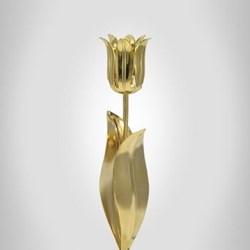 "Life can throw us curve balls sometimes, which can throw our focus off of the most important thing in life: the people we love. Our beautiful, personalized gifts give people an opportunity to say "You are important to me," stated Sid Fey, CEO.
Warrenville, IL (PRWEB) November 21, 2013
Hand sculpted and made in the USA, the new tulip gift line makes its debut exclusive to LoveIsARose.com and is part of their new Heirloom Collection. The tulip, which represents "Perfect Love," has been created by taking real flowers and forming special steel patterns from each petal and leaf using age-old techniques. They are then transformed into beautiful Heirloom Flowers with 24KT gold, platinum, or silver finishes. The flower blossoms are also available in red, white, pink, and yellow. For a limited time, each tulip will come with a free engraved heart that says, "I Love You."
The Heirloom flowers were designed by jewelry artisan Sid Fey who was inspired by his wife Kathy's love for flowers. The collection also includes roses, lilies, calla lilies, daffodils, daisies, azaleas, dahlias, geraniums, marigolds, hibiscus, zinnias, edelweiss, star magnolias, passion, poppies, lotus, and carnations. These flowers are finished in 24k gold, silver, platinum, antiqued silver, antiqued copper, rose gold, and also available in red or white enamel. The Heirloom flowers are available in crystal vases, or set in museum cases and shadow boxes with personalized message engravings. Custom messages can be engraved onto Heart Charms that hang from the bud of the flowers or onto an engraving plate which then adorns museum display cases or cherish boxes.
LoveIsARose.com is known for its 24K gold roses imprinted with custom messages on the flower petals. The real, preserved roses are trimmed or dipped entirely in 24K gold, platinum, or silver.
LoveIsARose.com is the only company in the world that is able to imprint a custom message onto the rose flower petals making this a truly unique, personalized gift. Real, preserved lilies and orchids are also available. The flowers, which come in an array of colors, are carefully selected, sized, and then preserved at the peak of their beauty.
"There are a lot of men who probably wish all the flowers they have given that special woman in their lives were still alive – so she could see them and be reminded. And there are just as many women who wish they could stop their flowers from wilting and being forgotten. These men and women needn't wish any longer," stated Sid Fey, CEO at LoveIsARose.com.
About Sid Fey Designs, Home of LoveIsARose.com:
Sid Fey Designs creates unique gifts that celebrate relationships, love, and family. These custom products are marketed through two successful commercial websites, LoveIsARose.com and BirthstoneTree.com. Sid Fey, CEO of Sid Fey Designs, has been a successful entrepreneur in both retail and the manufacturing sector for over 40 years and has created many products that are being marketed throughout the world. Fey is also the author of the inspirational book "The BEING Game: For the Love of Your Life."
For more information, contact:
Sid Fey
Phone: 630-393-1111
http://www.LoveIsARose.com
mail(at)LoveIsARose(dot)com