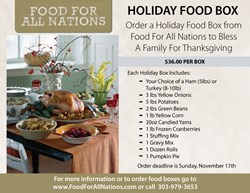 It's long been on my heart to feed the hungry. - Pastor Mark Cowart, Founder of Food For All Nations
Colorado Springs, Co; Littleton, CO, Liberal, KS (PRWEB) November 16, 2013
Food For All Nations is a non-profit, food purchasing organization committed to providing first quality, nutritional food at a substantial savings. In response to the current economic challenges and growing unemployment, Food For All Nations' goal is to provide individuals and families an easy way to stretch their monthly grocery budget.
Through high volume buying, low overhead and the core of volunteers, Food For All Nations is able to sell directly to customers enabling Food For All Nations to pass along incredible savings.
Every month, Food For All Nations will feature a Premium Market Box filled with a wide selection of high quality, fresh, frozen and staple, pre-packaged food items that will feed a family of four for approximately a week or a single person for up to a month. The menus are carefully selected to include items from the many food groups including quality proteins providing healthy and balanced food choices for you and your family.
The food sold is the same high quality, brand name food that would be purchased at a local retail grocery store.
In October 2013, Food For All Nations officially opened for business, launching special holiday food boxes for Thanksgiving and Christmas that will supply a traditional meal that feeds a family of four at the cost of $36 per box.
The cost comparison found prices at several local retail grocery stores, 20% to 45% higher than Food For All Nations pricing!
There are no income requirements or program qualifications and participation is open to everyone. There are no limits to the quantity of boxes per individual for purchase. Food For All Nations will participate in the U.S. Food Stamp Program (SNAP) and should be available by the first quarter of 2014.
Because Food For All Nations is a non-profit organization, any individual and/or organization can purchase food to donate to someone in need. All donated food is tax-deductible as a charitable donation.
Food For All Nations is dedicated to work alongside community groups, businesses, schools, organizations, churches, and ministries. Their goal is to reach as many people in need with food assistance, in our community, our state, and eventually throughout our nation.
For more information on the Food For All Nations food program go to: http://www.foodforallnations.com or call (719) 591-1800.
November Holiday Food Box Order Deadline: Extended to November 22, 2013
The upcoming December Christmas Holiday Food Box is available for $36. Order Deadline is December 17, and distribution is on Saturday, December 21, 2013.