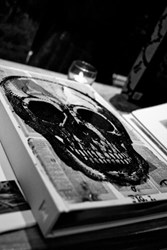 Los Angeles, CA (PRWEB) November 18, 2013
Continuing its success in the art world after the launch of its limited art editions of one-of-a-kind original art book covers during Art Basel Switzerland at SCOPE with its widely acclaimed "For Which it Stands: Americana in Contemporary Art", Patrice Farameh, under her boutique publishing imprint THE CURATED COLLECTION, is personally releasing a signed, hand-numbered edition of a crystallized "Skull Style" book, limited to only 20 works of art and sold exclusively at StyleObjects.
The event will also feature Farameh's newly released publication "Rock Star Chic", a visually stunning journey into the ominously beautiful obsession with the bad boy image of Rock 'N Roll with over 300 images of fashion's most cutting-edge photographers, designers and stylists who focus on the love affair with the gloomy, sultry, and darker side of high fashion.
Atelier Swarovski with Maison Martin Margiela, Beats by Dr Dre and personalized jewelry by K Kane will also present their exclusive limited edition products on the same evening. Luminaries like internationally acclaimed fetish supermodel, actress and entrepreneur Dita Von Teese will also be present to launch her new perfume line at StylObjects while guests enjoy drinks and specialty bites from Los Angeles' iconic hotspot Mauro's next door, as well as skull cupcakes provided by Sonora Bakery to mark the special Skull Style release event.
About THE CURATED COLLECTION
"Incite, inspire, evoke." This is the mission of Patrice Farameh, the independent boutique publisher based in New York City who produces a limited number of books annually under THE CURATED COLLECTION label. The company is internationally recognized for its limited edition art books that are sought after by book and art collectors. Savvy insiders in the areas of art, fashion and interior design lend their expertise as 'curators' to each exciting title, creating stunning collections of cutting-edge content.
About STYLOBJECTS BY RON ROBINSON
In 1978, Ron Robinson opened its doors at Fred Segal on Melrose Avenue, and has grown exponentially ever since. Having worked directly for Fred Segal as a salesman, buyer and then Vice President for nearly a decade prior, Robinson found it to be the perfect time to take his knowledge and expertise and build on the traditions he had learned, as well as make some of his own. Since then, his stores have continually changed the face of shopping and fashion. Today, boutiques are located on Melrose Avenue in Los Angeles and on Broadway in Santa Monica as part of the Fred Segal centers. In the late 70's, Robinson started with a men's casual sportswear store grew to offer a variety of hard-to-find labels spanning from local L.A. designers to unique Japanese and international brands. Five years later he expanded with a beauty boutique that he named APOTHIA (a blend of the words "apothecary" and "utopia") and a children's store named LIFESIZE. Robinson's desire to cultivate a shopping experience with key lifestyle and design items - the fashion you live with -created StylObjects.