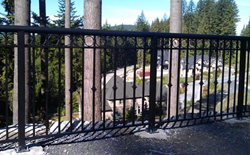 It is our business philosophy that quality and security go hand-in-hand in building a reliable fence.
Vancouver, BC (PRWEB) November 18, 2013
QS Fencing is a renowned Vancouver fencing company that has recently announced the beginning of its 24/7 fencing repair services. These services are extended towards existing customers as well as new clients who are looking for quality fencing and security solutions. Apart from offering brand new fences and many other types of security products, QS Fencing has also created a strong reputation in high quality and reliable repairs of fencing. This 24/7 repair service is available for both, commercial clients and residential households. The company aims to provide the most competitive prices for its services.
Vancouver Fencing Services
QS Fencing has a variety of other services to offer including, fences, gates, aluminum and steel fences, handrails, bollards, chain-link fences and automated gates. The company's ornamental range of fences and gates is aesthetically pleasing and perfect for households as well as offices. As a result, QS Fencing provides a wide array of designs and security options, while maintaining the high quality that the company promises to its clients.
"It is our business philosophy that quality and security go hand-in-hand in building a reliable fence," says QS Fencing representative. "Whether you need a specialty chain-link, aluminum or wrought iron fence, our knowledge, resources and affordable prices cannot be beaten by our competition."
QS Fencing in Vancouver, BC
A family-owned Vancouver fencing business, QS Fencing provides 24/7 fencing repairs and fencing, gate and railing installations across the Lower Mainland. These products are available for private customers and also for commercial clients that pay special heed to their security and comfort. The company's customer services remain unmatched and show its commitment to delivering customer satisfaction.
The company lays great emphasis on customer satisfaction and strives to offer the best service at the most competitive rates. Apart from providing 24/7 repairs, QS Fencing also offers its client with a unique opportunity to call for a free estimate. This is a no-obligation offer so that clients can compare and contrast the company's deals with those of its competitors'.
For more information on QS Fencing, log on to http://www.qsfencing.ca. To obtain a free estimate or to call for repair services, visit the website http://www.qsfencing.ca.