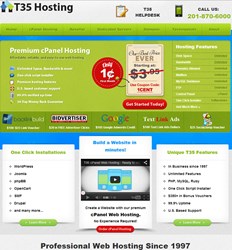 For more information, please call (201) 870-6000.
Englewood Cliffs, NJ (PRWEB) November 15, 2013
T35.com offers dedicated servers with multiple C-Class IPs for those looking to improve their SEO or for IP diversity.
T35.com is proud to include a brand new offering of dedicated servers with multiple C-Class IPs. Customers who are looking to expand their business can now take advantage of dedicated servers that are hosted in T35 trusted premium data centers.Regarding the reliability of T35's hosting services, it is note-worthy to mention that the company currently hosts its own websites on the same data centers as their clients. This is proof of the confidence they have in the reliability of their hosting standards.
The new service allows webmasters to take advantage of up to 100 C-Class IPs and a total of up to 500 IP's per server. T35's dedicated servers are especially designed to be SEO-friendly and allow customers to spread out their websites across various IP blocks. All dedicated servers provided by T35 are on hosting on their premium network and come with a plethora of add-ons, DDOS protection, and various configurable options. T35.com is also one of the only providers that allows this offering of customized dedicated servers with such a variety of multiple IPs. Shrewd customers will appreciate this deal as T35.com services come with a recognized 99.9% uptime guarantee and 24/ 7 customer support.
In the event that the customers are not completely satisfied with the standard features included in the package, T35 may offer them the opportunity to custom build the dedicated servers. The company inventory includes all possible combinations of hardware as well as the entirety of operating systems available. Depending on their preferences and their business needs, customers can build their ideal dedicated server with the hardware specs and operating system of their own choice.
The premium dedicated servers are typically hosted in the company's modern data centers located in the Chicago area and in the New York City area. Each server comes with real time MRTG monitoring and 24/7/365 support as well as top-end Cisco managed switches and multiple backbone up-links. The C-Class IPs can be easily managed, individually or as a block, from one server. The latter feature has been designed to help webmasters spread out their multiple websites easier and enjoy maximum SEO benefits.
T35.com ( http://www.t35.com/ ) is a hosting service that specializes in providing top notch A, B and C-Class IPs. Since the time the company was founded back in 1997, T35 has been a rising leader and pioneer in its industry and was one of the first companies to offer free web hosting services as well as unlimited space and bandwidth to their customers.